Conferences
Upcoming MDPI Conferences (0)
No conferences found for the selection.
Membranes announces selected third-party conferences. In case you would like to announce your own event on the Membranes website, please fill out the following form to apply for the announcement of a conference or other academic event (seminar, workshop).
Upcoming Partner Conferences (3)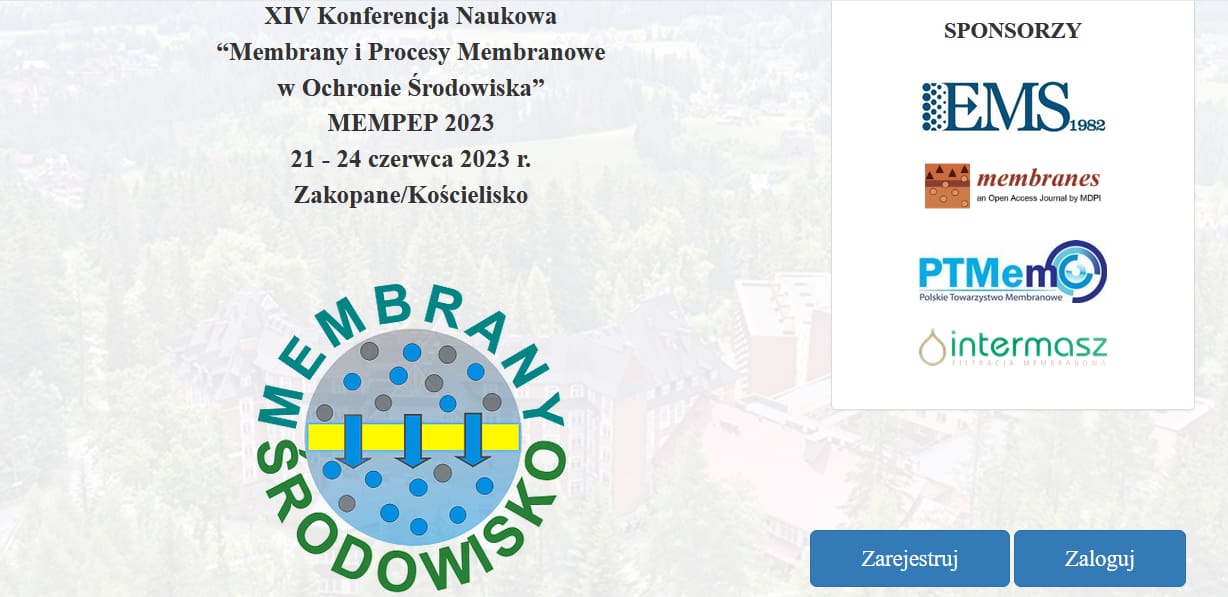 21–24 June 2023
XIV Scientific Conference "Membranes and Membrane Processes in Environmental Protection" (MEMPEP 2023)
Zakopane/Kościelisko, Poland
The XIV Scientific Conference "Membranes and Membrane Processes in Environmental Protection" (MEMPEP 2023) will be held from the 21st to the 24th of June, 2023, in Zakopane/Kościelisko, Poland.
Membrane techniques have found a wide range of applications in environmental protection. Thus, the reviewing and coordination of current research are justified and aimed for. The active participation of industrial partners who apply membrane processes to industrial practice is also highly desired; the above has all been revealed by a series of membrane conferences regularly organized since 1995.
The aim of the conference is to sum up the recent progress in the application of membrane processes mainly in environmental protection, but also in other branches of industry.

26–27 September 2023
Circular Economy for Climate and Environment (CECE) Conference 2023
Sydney, Australia
The Circular Economy For Climate and Environment Conference will be held in Sydney in September 2023 and is organized by the University of Technology (UTS) and the ARC Research Hub for Nutrients in a Circular Economy (NiCE). The conference will explore recent advances in technologies and industrial approaches with a focus on nutrient recovery and reuse for a sustainable future.
CECE is an annual international multi-disciplinary conference covering a wide range of topics with themes related to the circular economy including water, energy, the environment, waste, resource recovery, climate change, and so forth. The conference provides a platform for researchers from academia, industry, government, and NGOs globally to come together and share their research works covering both fundamentals and applied research. The conference also aims to promote networking among researchers and foster international collaboration.

11–16 December 2023
MRM2023/IUMRS-ICA2023
Kyoto, Japan
The MRM is an international conference launched in 2019 by the Materials Research Society of Japan (MRS-J) for promoting the use of interdisciplinary materials in solid-state physics, chemistry, materials science, and relevant disciplines. It is a platform for high-level discussions on advanced materials research.
The IUMRS-ICA, on the other hand, is one of the most important serial conferences of the International Union of Materials Research Societies (IUMRS) and has been organized annually since 2008 by IUMRS members in Asia. A large number of researchers and students from across the world have attended IUMRS-ICA, which has become a showcase for advanced materials research in Asia.
Against these backgrounds, the third MRM will be held in collaboration with the historic IUMRS-ICA in Kyoto in 2023 as an international meeting (MRM2023/IUMRS-ICA2023), covering a broader range of fields.