Conferences
Upcoming MDPI Conferences (2)
12 June 2023
Mathematics Webinar | Advances of Soft Computing
Online
In contrast to the conventional methods of hard computing, which are based on symbolic logical reasoning and numerical modeling, soft computing deals with approximate reasoning and processes that give solutions to complex real-life problems that cannot be modeled or are too difficult to be modeled mathematically. Soft computing is the synthesis of several computing paradigms, mainly including probabilistic reasoning, fuzzy logic, artificial neural networks and genetic algorithms. These paradigms are complementary to each other and can be used simultaneously for solving a given problem. Although soft computing appeared just during the 1980s, its techniques are successfully used nowadays in many domestic, commercial and industrial applications, becoming a major research object in automatic control engineering and demonstrating the potential to expand further in the forthcoming era of the fourth industrial revolution and the advanced Internet of Things. In this webinar, we are going to explore various aspects of soft computing that promote very interesting applications to various scientific fields. We believe the mathematical community will benefit from this meeting.
Date: 12 June 2023 at 12:00 p.m. CEST | 1:00 p.m. EEST
Register now for free!
Webinar Chair and Keynote Speakers:
Prof. Dr. Michael Voskoglou, School of Engineering, University of Peloponnese (Ex Graduate Technological Educational Institute of Western Greece), Greece
Prof. Dr. Basil Papadopoulos, Department of Civil Engineering, Democritus University of Thrace, Greece
Prof. Dr. Madhumangal Pal, Department of Applied Mathematics with Oceanology and Computer Programming, India
Dr. Said Broumi, LTI Laboratory, Faculty of Sciences Ben Msik, University Hassan II, Morocco
Program:
Speaker/Presentation

Time in CEST

Prof. Dr. Michael Voskoglou
Introduction

12:00–12:10 p.m.

Prof. Dr. Basil Papadopoulos
Fuzzy Subsethood Implies Fuzzy Implication and Vice Versa

12:10–12:35 p.m.

Prof. Dr. Madhumangal Pal
Fuzzy Graphs

12:35–1:00 p.m.

Dr. Said Broumi
Recent Extensions of Neutrosophic Sets

1:00–1:25 p.m.

Q&A Session

1:25–1:40 p.m.

Prof. Dr. Michael Voskoglou
Closing of Webinar

1:40–1:45 p.m.
Relevant Special Issues:
1. "Advances and Applications of Soft Computing"
Guest Editor: Prof. Dr. Michael Voskoglou
Deadline for manuscript submissions: 6 June 2024
2."Soft Computing and Uncertainty Learning with Applications"
Guest Editors: Prof. Dr. Xiaodong Yue, Prof. Dr. Shu Zhao and Prof. Dr. Jie Zhou
Deadline for manuscript submissions: 15 August 2023
3. "Advances in Genetic Programming and Soft Computing"
Guest Editors: Dr. Marko Ðurasević and Prof. Dr. Domagoj Jakobović
Deadline for manuscript submissions: 31 January 2024
This is a free webinar. After registering, you will receive a confirmation email containing information on how to join the webinar. Registrations with academic institutional email addresses will be prioritized. Certificates of attendance will be delivered to those who attend the live webinar.
Unable to attend? Register anyway and we will let you know when the recording is available to watch.
https://us02web.zoom.us/webinar/register/WN_dvQIgMhlTWeXKIiSdNdQ0A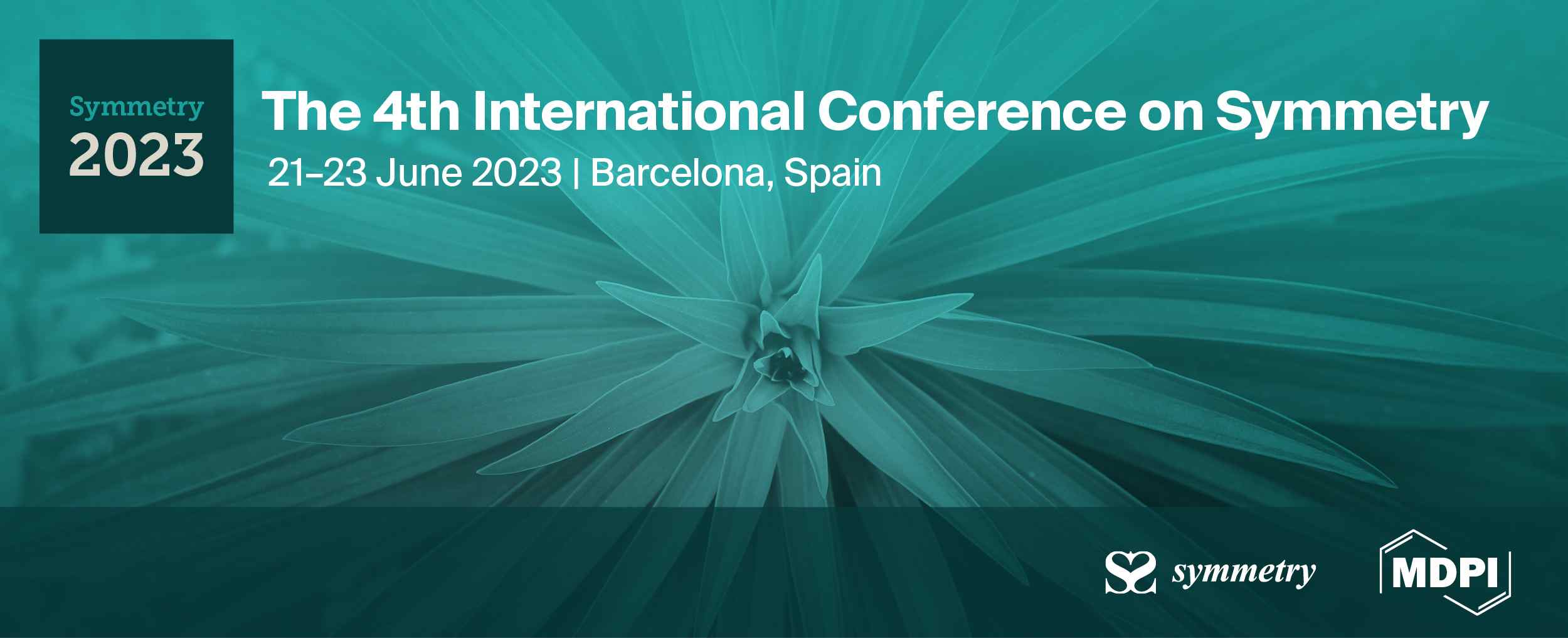 21–23 June 2023
Symmetry 2023—The 4th International Conference on Symmetry
Barcelona, Spain
Dear Colleagues,
We are delighted to announce that "Symmetry 2023—The 4th International Conference on Symmetry" will be back in person in 2023. The event is supported by MDPI's open access journal Symmetry and will be held on 21–23 June 2023 in Barcelona, Spain.
As expressed by Hermann Weyl, who was responsible for important progress in the field of symmetry in math and physics: "Symmetry is a fundamental phenomenon in nature and all sciences". Additionally, paraphrasing Frank Wilczek, "powerful symmetry principles have guided physicists in their quest for nature's fundamental laws". Although one should add, at the same time, that many of the most interesting situations happen to occur when some fundamental symmetry principle is broken. It thus seems as if nature abhors perfect symmetry.
It is this interplay between symmetry and its breakdown, in the many different domains and situations where they appear, which we want to address in the 4th Symmetry Conference in Barcelona. Specifically, we will foster interaction between scholars working in different fields of science.
We welcome scholars, engineers, students, and non-academic colleagues to join Symmetry 2023, and we kindly ask you to save the date. We aim to make this event a forum for discussion, knowledge exchange, and fruitful interactions among stakeholders working in various symmetry-related fields: Computer Science, Mathematics, Physics, Chemistry, Biology, and Engineering Science. Both oral and poster contributions are welcome.
We are pleased to announce the availability of awards for postdocs, PhD students, and researchers conducting research in the field of symmetry and who plan to attend Symmetry 2023.
Best Oral Presentation (EUR 500)
Selected by the Scientific Committee after evaluation of all selected talks presented during the conference.
Best Poster (EUR 300)
Selected by the Scientific Committee after evaluation of all posters presented during the conference.
Both awards are sponsored by MDPI's open access journal Symmetry.
We are very enthusiastic about this 4th Symmetry Conference and are relying on you to make it a successful event.
We look forward to meeting you in Barcelona!
Mathematics announces selected third-party conferences. In case you would like to announce your own event on the Mathematics website, please fill out the following form to apply for the announcement of a conference or other academic event (seminar, workshop).
Upcoming Partner Conferences (6)