Conferences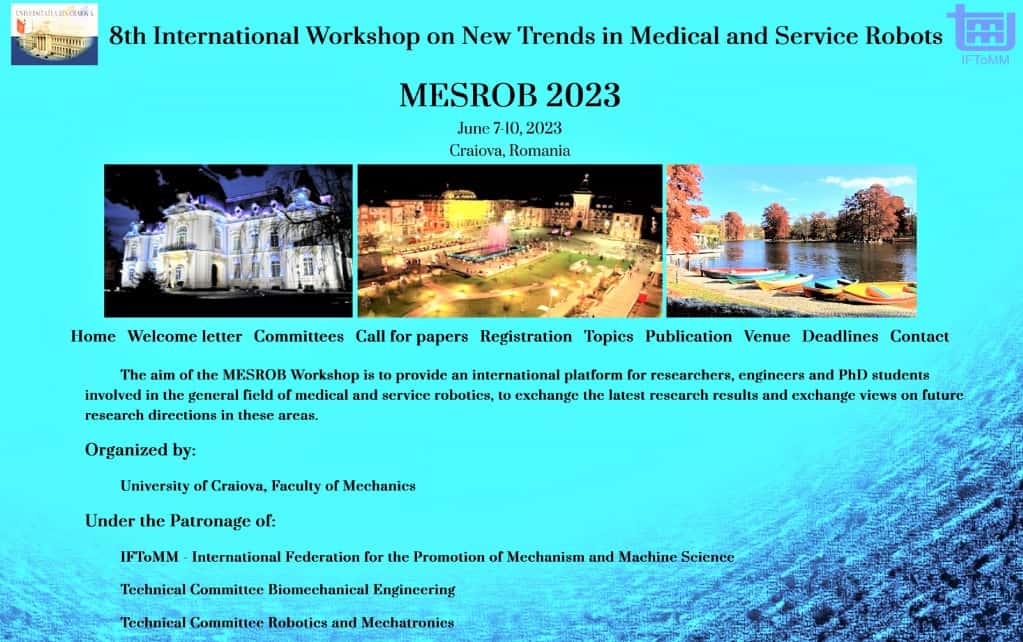 Dear Colleagues,
It is our privilege and great pleasure to invite you to the eighth edition of the International Workshop on New Trends in Medical and Service Robots (MESROB 2023), 07–10 June 2023. Under the patronage of IFToMM, the International Federation for the Promotion of Mechanism and Machine Science, MESROB 2023 will be organized by the University of Craiova, Romania.
The aim of the MESROB Workshop is to provide an international platform for researchers, engineers, and PhD students involved in the general field of medical and service robotics to exchange their latest research results and exchange ideas on future research directions in these areas. From the point of view of research and applications, medical and service robotics is enjoying growing interest as well as the obvious growth of the market.
Since the first symposium in 2012 in Cluj-Napoca, Romania, MESROB has attracted eminent experts and provided a forum for researchers working in the field of medical and service robots. Continuing with the editions MESROB 2013 in Belgrade, Serbia; MESROB 2014 in Lausanne, Switzerland; MESROB 2015 in Nantes, France; MESROB 2016 in Innsbruck and Graz, Austria; MESROB 2018 in Cassino, Italy; and MESROB 2021 in Basel, Switzerland, the Workshop has continued to grow in terms of the number of participants and its scientific impact.
MESROB is constantly encouraging interdisciplinary research in new and highly modern directions, such as robotic solutions for rehabilitation, surgical treatment, human–robot interaction, and elderly assistance.
Welcome to MESROB 2023 in Craiova!
Kind regards on the behalf of the MESROB 2023 Steering Committee,
Daniela Tarnita
MESROB 2023 Chair