Conferences
Lubricants announces selected third-party conferences. In case you would like to announce your own event on the Lubricants website, please fill out the following form to apply for the announcement of a conference or other academic event (seminar, workshop).
Upcoming Partner Conferences (1)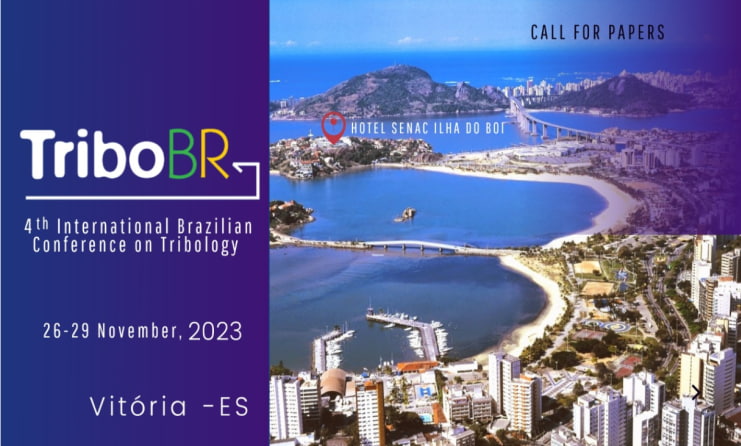 26–29 November 2023
4th International Brazilian Conference on Tribology
Vitoria, Espírito Santo, Brazil
Dear Respected Academics and Researchers,
On behalf of TriboBR 2023, the Organizing and Scientific Committees are pleased to announce the "4th International Brazilian Conference on Tribology". TriboBR2023 will embrace the state of the art and future trends in tribology research and application, with a special focus on the important role of tribology on energy transition.
It will also provide an international forum for researchers and practitioners to exchange information, present new developments, establish new international personal networks and discuss the future directions and priorities of tribology.
For four days the participants will gather together around different innovative scientific topics related to the following areas:
Green tribology and energy transition.
Biotribology.
Tribology of mechanical components.
Automotive tribology.
Tribological challenges in Biogas and H2-fuelled engines.
Tribology in manufacturing.
New tribo-materials.
Surface engineering.
Friction reduction.
Wear.
Abrasion and Erosion.
Tribocorrosion.
Lubricants and lubrication.
Coatings.
Authors of presentations given at TriboBR 2023 are invited to submit research papers regarding their work to be published in Lubricants. The papers will go through the regular peer review process. For more information, please contact lubricants@mdpi.com.
You can find more information about this event on the following website: https://www.tribobr2023.com.br/.
Best regards,
TriboBR 2023