Conferences
Upcoming MDPI Conferences (1)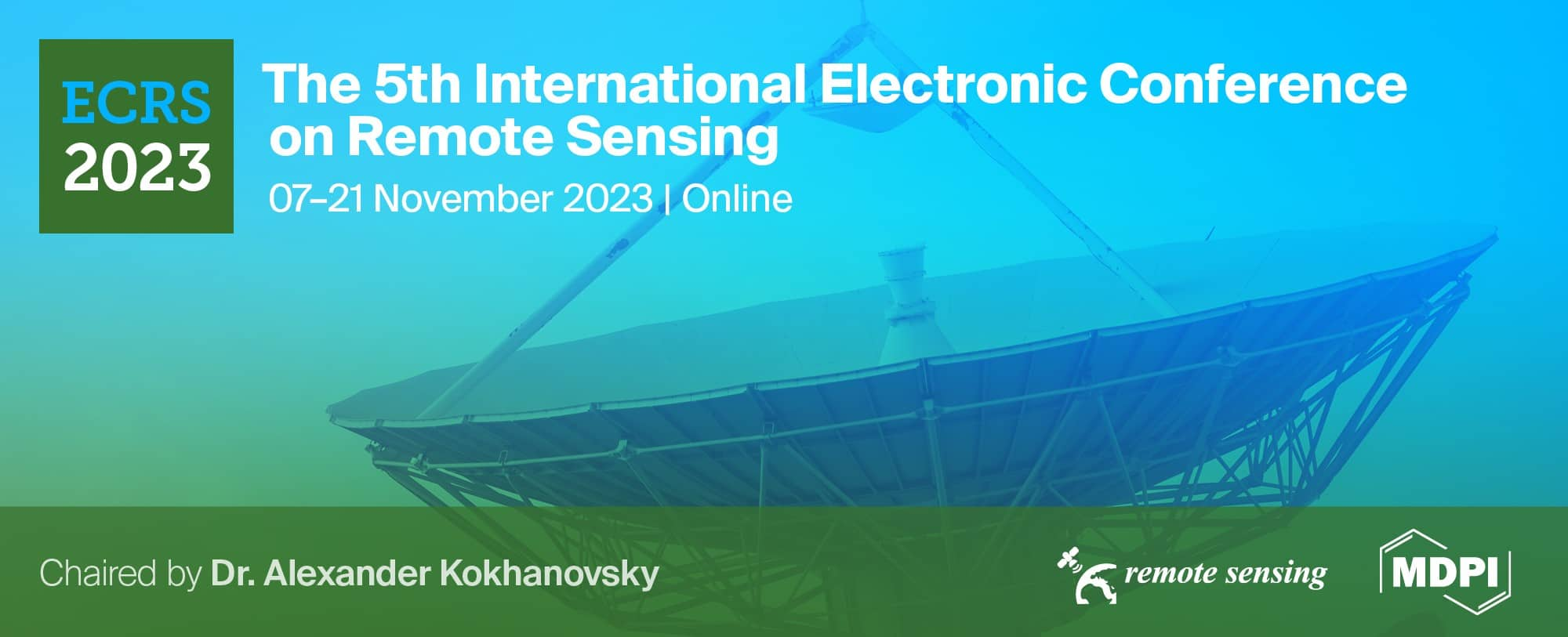 7–21 November 2023
The 5th International Electronic Conference on Remote Sensing
Online
Dear Colleagues,
The 5th International Electronic Conference on Remote Sensing with a focus on "Advances in experimental and theoretical studies of terrestrial atmosphere and underlying surface" will be held on 7–21 November 2023. The main aim of the conference is to present recent advances in experimental and theoretical studies of the atmosphere (trace gases, atmospheric aerosols, cloudiness, precipitation, temperature, and pressure) and underlying surfaces with a focus on cryosphere, which has a great impact, including non-linear impacts, on climate change trends and the warming of our planet. The conference will promote the use of remote sensing and geospatial information technology and enable the exchange of innovative approaches in the area of remote sensing.
This is an excellent opportunity for remote sensing scientists to communicate with their colleagues, learn from each other, and share ideas and results. It will be possible to deliver live and pre-recorded presentations simultaneously.
The main topics and sessions of the conference are as follows:
S1. Remote sensing systems and techniques
S1-1. Ground-based, airborne, shipborne, and spaceborne remote sensing systems;
S1-2. Hyperspectral remote sensing;
S1-3. Lidar remote sensing;
S1-4. Radar remote sensing;
S1-5. Passive remote sensing.
S2. Remote sensing: physical fundamentals and inverse theory
S2-1. Electromagnetic light scattering;
S2-2 Radiative transfer;
S2-3 Inverse theory.
S3. Remote sensing applications
S3-1. Oceanic remote sensing;
S3-2. Vegetation remote sensing;
S3-3. Remote sensing of land-use and land-cover change;
S3-4. Remote sensing of snow and ice;
S3-5. Remote sensing of precipitation;
S3-6. Aerosol remote sensing;
S3-7. Cloud remote sensing;
S3-8 Remote sensing of atmospheric trace gases.
All accepted abstracts will be published on the website of the conference. You are required to submit an abstract (250–500 word limit). Please see the abstract guidelines at "Instructions for Authors".
After the conference, there will be a possibility to submit selected papers to the related journal Remote Sensing (Impact Factor (2021): 5.349; 5-Year Impact Factor (2021): 5.786; Top Open Access Journal in Remote Sensing) with a 20% discount on the APCs.
On behalf of the Organizing Committee, we invite you to join us at the 5th International Electronic Conference on "Advances in experimental and theoretical studies of terrestrial atmosphere and underlying surface".
Dr. Alexander Kokhanovsky
Chair of the 5th International Electronic Conference on Remote Sensing
German Research Centre for Geosciences, Potsdam, Germany
Land announces selected third-party conferences. In case you would like to announce your own event on the Land website, please fill out the following form to apply for the announcement of a conference or other academic event (seminar, workshop).
Upcoming Partner Conferences (3)

6–8 September 2023
The 12th International Conference on Innovation in Urban and Regional Planning
L'Aquila, Italy
The 12th International Conference on Innovation in Urban and Regional Planning (INPUT2023) is organized by DICEAA – Department of Civil, Construction-Architectural and Environmental Engineering of the University of L'Aquila (Italy). For this edition, the conference title will be: "Working for sustainable soil management and the role of land planning". The Conference will focus on the role of planning at different scale (from strategies to projects) for sustainable soil management and sustainable urban development.
During the Conference, considerable space will be dedicated to the presentation of new technologies through the organization of specific and operative workshops.
Abstract Submissions: March 18th, 2023
Notification of Abstract Acceptance: April 3rd, 2023
Paper Submissions: June 10th, 2023
Conference Registration Early Bird: July 15th, 2023
Conference Sessions:
Resilient, Circular and Sustainable Cities
Geospatial earth data to support the restoration of soil ecosystems and implications for spatial planning (GEO4SP)
Geodesign for Informed Collaborative Spatial Planning and Design
Integrating Ecosystem Services into Spatial Planning Processes: Sustainable Solutions for Healthier and Safer Urban and Rural Environments
The Urban Digital Twin: a new dimension for the land planning
Supporting the transition towards ecologically-oriented urban planning: what's the role of early-career researchers? Innovative findings, experiences, and ways forward
Towards denser and greener cities? Methods and indicators to monitor trends and impacts in support of urban planning and policies
Innovative Approaches and Methodologies for driving Sustainable and Inclusive Urban Regeneration
The Innovation of Urban Planning Tools for Energy-Resilient Cities
Spreading Porosity: the Contribution of Planning Tools in Increasing Soil Permeability
Research and Standards for Sustainable Spatial Planning (R&S4SP)
Coastal planning: diagnostic tools to address physical, social and environmental concerns
Territorial strategies in place-based and community-led energy transitions
Innovative simulations for urban planning: decoding configuration, morphology and space
The energy transition of the built environment
Smart Happy Region. Relationship between Planning and Subjective Well-Being
Innovations in the 15 minute-city approaches: conceptual, data-driven, and practical developments towards a sustainable urban planning
Climate sensitive planning: re-defining urban environments for sustainable cities
Urban and peri-urban areas: building knowledge and mapping to better plan the sustainable green city
Densification and urban regeneration for climate adaptation in sustainable settlements
3 International Keynotes, workshop on specific topic (in processing) such as standardization of policies and indicators, land take, space syntax, BIM and other. More informations are available at the link: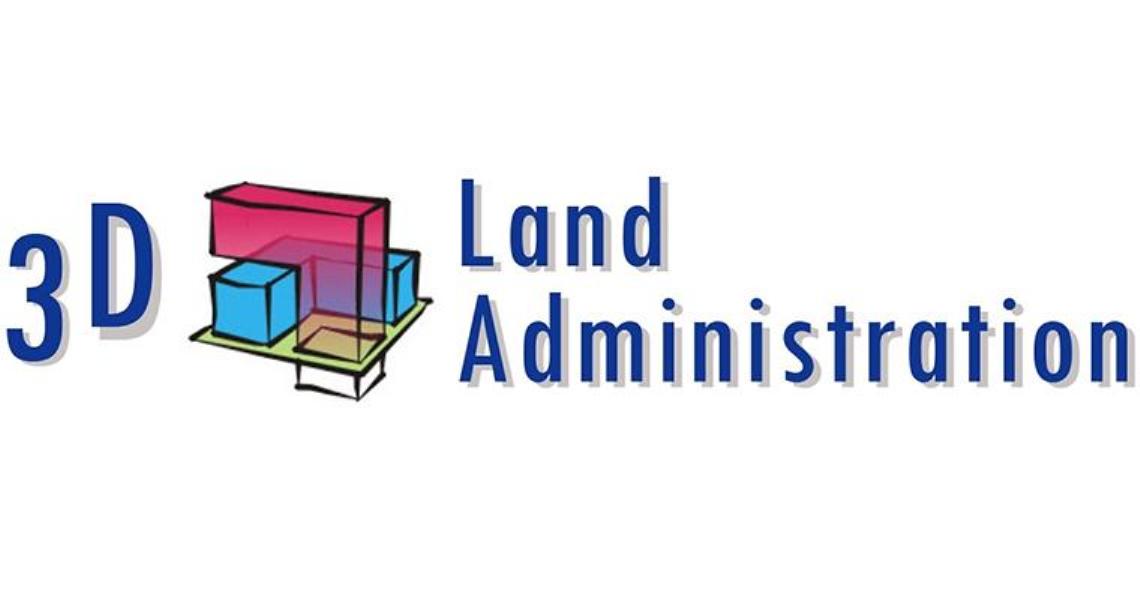 11–13 October 2023
11th International FIG Workshop on the Land Administration Domain Model / 3D Land Administration
Gavle, Sweden
The 11th International FIG Workshop on the Land Administration Domain Model / 3D Land Administration will take place in Gavle, Sweden, from 11–13 October 2023, and will be hosted by the University of Gavl, in cooperation with Lantmateriet (the Swedish mapping, cadastral and land registration authority). The land administration domain model is gaining recognition in many areas of the world. Ten years after the publication of the first edition, a variety of country profiles already exist and a large number have implemented (or are implementing) LADM. Software suppliers are adopting LADM and implementing it in full.
However, the existing standard edition of LADM does not pay attention to implementation aspects. This can be done in various ways, and several platforms and encodings can be used in this process. The scientific community must ask itself: What are the experiences so far? What have we learned and what can be re-used? What are the pitfalls and risks? LADM is at present currently only a conceptual model in need of implementation, the steps towards which include elaborating (via a country profile) and realizing a technical model suitable for implementation from amongst: database schema (SQL DDL), exchange format (GeoJSON, INTERLIS, RDF, XML/GML), and user interface for editing and dissemination. A good option for this is the collaboration between FIG, ISPRS, IHO, ISO and OGC, which can help to standardize these implementation aspects of LADM.
The Workshop on the Land Administration Domain Model / 3D Land Administration will address developments in the following areas:
3D land administration system operational experiences (analysis, LADM-based, learn from each other, discover gaps);
3D LAS cost-effective workflow for new / updated 3D parcels = 4D (part of whole spatial development lifecycle: from planning / design / permit in 3D, to registration / use in 3D);
3D LAS web-based dissemination (usability, man–machine interfaces, including mobile/AR);
Remote sensing (including LiDAR) and artificial intelligence (AI) for efficient 3D cadastral boundary extraction;
Legal aspects for 3D LAS, best legal practices in various legislation systems;
Focus on large cities, including developing countries;
3D in the revision of ISO 19152, the land administration domain model;
Proposals for (and evaluations of) LA (remote) sensing information models (CD 19152-2) and data processing workflows (CD 19152-6), in the context of the revision of LADM.
Important deadlines for the FIG LADM / 3D Land Administration 2023 Workshop are:
| | |
| --- | --- |
| 11 June 2023 | Extended abstract (500-1000 words) |
| 15 July 2023 | Reviewing |
| 15 September 2023 | Final version full paper |
| 11-13 October 2023 | Workshop |

23–27 October 2023
International Conference on Recent Trends in Geoscience Research and Applications 2023
Belgrade, Serbia & Online
Geoscience research and applications are of crucial interest in science and many areas of modern life. For this reason, exchanging knowledge in various relevant areas is essential for development in scientific, engineering, and programming activities. This conference emphasizes the importance of joint research between experts in these fields and provides them with a platform to exchange knowledge.
All experts in geosciences and geoinformation technologies are welcome to take an active role in the GeosciRA23 conference!
The topics of the GeosciRA23 conference include, but are not limited to
Atmospheric research;
Space weather;
Lithospheric research;
Hydrological research;
Environmental research;
Natural hazards;
Geoinformation technologies.
Registration: 20 June 2023
Abstract submission: 20 June 2023
Contributed papers submission: 15 September 2023
More information is available at the following link: