Conferences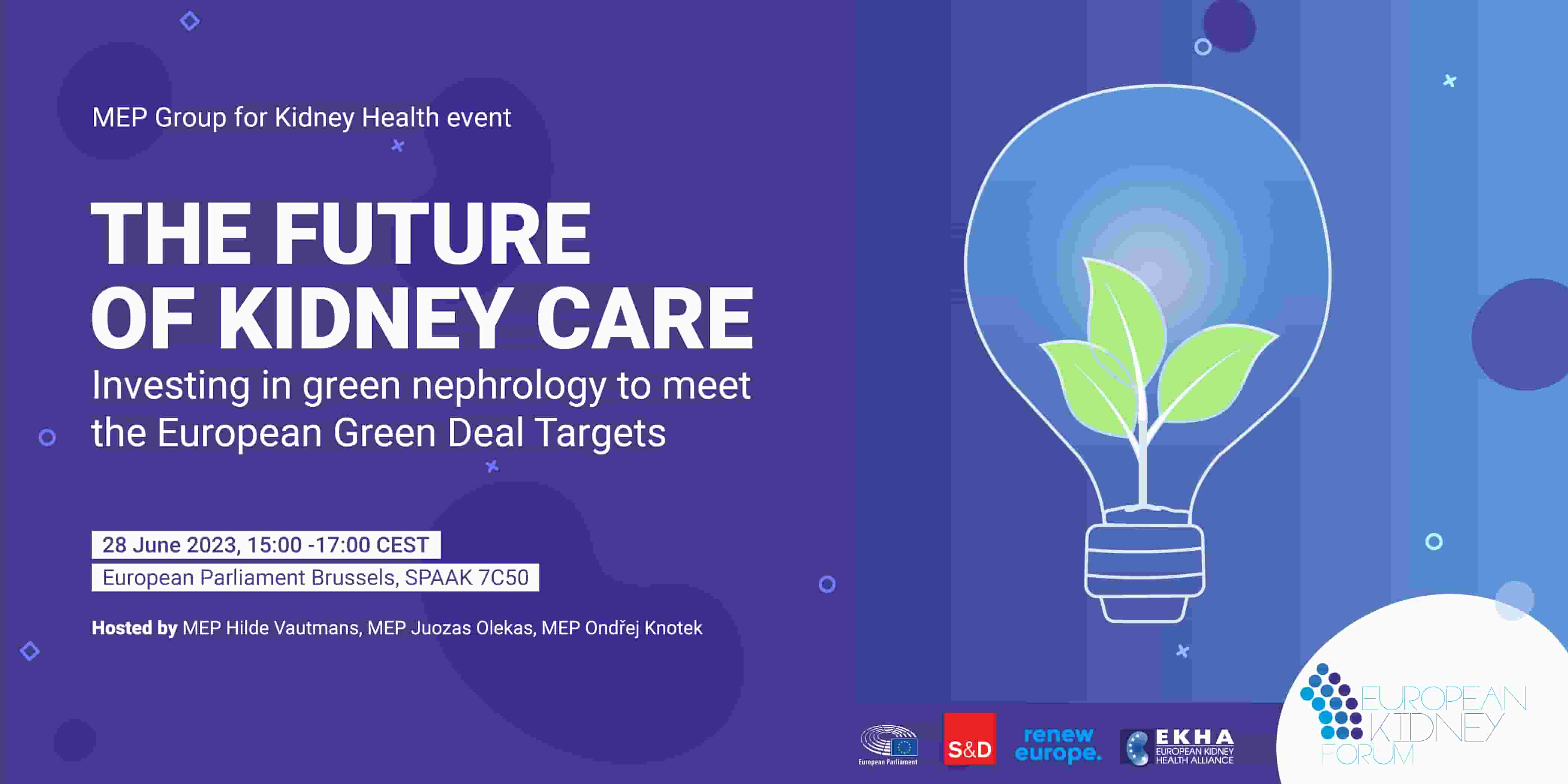 On 28 June, from 15:00 to 17:00 CEST, the European Kidney Health Alliance (EKHA) and the MEP Group for Kidney Health will host the European Kidney Forum in the European Parliament in Brussels. The European Kidney Forum is EKHA's annual policy event, gathering a wide variety of stakeholders from the field of nephrology, including healthcare professionals, policymakers, and patient representatives.
The 2023 European Kidney Forum will focus on the value of investing in green nephrology to meet the European Green Deal targets. The environmental impact of dialysis is particularly large, given its high rates of water consumption, waste creation, and greenhouse gas emissions. Simultaneously, environmental changes lead to serious disruptions of safe and effective kidney care and foster the emergence of new cases of kidney disease. Against this backdrop, efforts to ensure the ecological optimisation of dialysis are crucial.
Speakers will elaborate on a range of pressing issues, including the bidirectional link between nephrology and the environment, the impact of the energy crisis on the continuity of safe and effective kidney care, and progressive solutions and EU opportunities for environmentally friendly nephrology.
Attendees of the 2023 European Kidney Forum will have an opportunity to hear from a host of compelling speakers, including:
Commissioner Stella Kyriakides, Commissioner for Health and Food Safety
MEP Hilde Vautmans, Co-Chair, MEP Group for Kidney Health
MEP Ondřej Knotek, Co-Chair, MEP Group for Kidney Health
MEP Juozas Olekas, Member, MEP Group for Kidney Health
Ms Petra Leroy Čadová, Policy Officer, Innovative Health Initiative, DG for Research and Innovation, European Commission
Prof Raymond Vanholder, President of the European Kidney Health Alliance
Ms Fiona Loud, Policy Director at Kidney Care UK
Dr Ilaria de Barbieri, President and Scientific Board Chair of the European Dialysis and Transplant Nurses Association/European Renal Care Association
Mr Daniel Gallego, President of the European Kidney Patients' Federation
Ms Ariana Gamba, Director of Programmes, Healthcare Without Harm Europe
Dr Fokko Wieringa, Principal Scientist, Connected Health Solutions Department, IMEC, The Netherlands
Full programme available here:
https://ekha.eu/wp-content/uploads/2023/05/EKF2023_draft-agenda_to-share.pdf
Register here:
https://ekha.eu/save-the-date-for-ekha-forum-2023-28-june-from-15-00-17-00-cest-in-the-european-parliament-in-brussel/