Conferences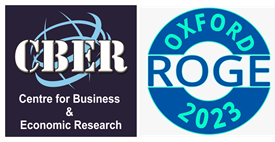 You are cordially invited to attend the '2023 CBER-FUE International Academic Conference', held during 7–8th August 2023, which will be hosted jointly by the Centre for Business & Economic Research (CBER), UK, in collaboration with the Faculty of Commerce and Business Administration-Future University in Egypt.
ROGE-2023 offers various tracks: Finance, Banking & Accounting, Growth and Economic Development, Globalisation and International Trade, Education and teaching for the Lifelong Learning Sector, Hospitality & Tourism Management, Marketing, HRM, Sustainable development and Business & Management.
Within the broad scope of this conference, authors are invited to submit original research papers, case studies, reviews, and work in progress. All accepted full-text papers will be published in the "Business & Management Review" (online) conference proceedings, and abstracts will be published in the printed version of the proceedings and online. All papers submitted to CBER are subjected to a double-blind review process.