Mixed-Linkage Glucan Is the Main Carbohydrate Source and Starch Is an Alternative Source during Brachypodium Grain Germination
Cited by 2
| Viewed by 973
Abstract
Seeds of the model grass
Brachypodium distachyon
are unusual because they contain very little starch and high levels of mixed-linkage glucan (MLG) accumulated in thick cell walls. It was suggested that MLG might supplement starch as a storage carbohydrate and may be mobilised
[...] Read more.
Seeds of the model grass
Brachypodium distachyon
are unusual because they contain very little starch and high levels of mixed-linkage glucan (MLG) accumulated in thick cell walls. It was suggested that MLG might supplement starch as a storage carbohydrate and may be mobilised during germination. In this work, we observed massive degradation of MLG during germination in both endosperm and nucellar epidermis. The enzymes responsible for the MLG degradation were identified in germinated grains and characterized using heterologous expression. By using mutants targeting MLG biosynthesis genes, we showed that the expression level of genes coding for MLG and starch-degrading enzymes was modified in the germinated grains of knocked-out
cslf6
mutants depleted in MLG but with higher starch content. Our results suggest a substrate-dependent regulation of the storage sugars during germination. These overall results demonstrated the function of MLG as the main carbohydrate source during germination of Brachypodium grain. More astonishingly,
cslf6
Brachypodium mutants are able to adapt their metabolism to the lack of MLG by modifying the energy source for germination and the expression of genes dedicated for its use.
Full article
►

▼

Show Figures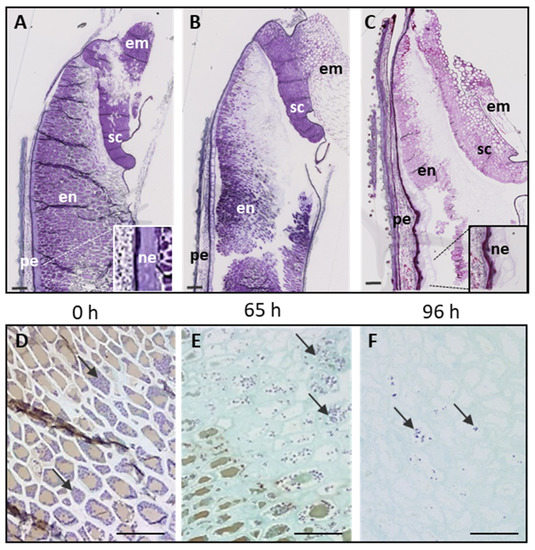 Figure 1