Genomic Analysis of Corynebacterium diphtheriae Strains Isolated in the Years 2007–2022 with a Report on the Identification of the First Non-Toxigenic tox Gene-Bearing Strain in Poland
Viewed by 776
Abstract
Infections caused by non-toxigenic
Corynebacterium diphtheriae
have been reported every year in Poland since 2004, with the ST8 biovar gravis strains being most commonly isolated. This study analyzed thirty strains isolated between 2017 and 2022 and six previously isolated strains. All the strains
[...] Read more.
Infections caused by non-toxigenic
Corynebacterium diphtheriae
have been reported every year in Poland since 2004, with the ST8 biovar gravis strains being most commonly isolated. This study analyzed thirty strains isolated between 2017 and 2022 and six previously isolated strains. All the strains were characterized using classic methods in terms of species, biovar level, and diphtheria toxin production, as well as by means of whole genome sequencing. The phylogenetic relationship based on SNP analysis was determined. The number of
C. diphtheriae
infections has been rising in Poland every year with a maximum of 22 cases in the year 2019. Since 2022, only the non-toxigenic gravis ST8 (most common) and mitis ST439 (less common) strains have been isolated. An analysis of the genomes of the ST8 strains showed that they had many potential virulence factors, such as adhesins and iron-uptake systems. The situation rapidly changed in 2022 and strains from different STs were isolated (ST32, 40, and 819). The ST40 biovar mitis strain was found to be non-toxigenic
tox
gene-bearing (NTTB), with the
tox
gene inactivated due to a single nucleotide deletion. Such strains were previously isolated in Belarus. The sudden appearance of new
C. diphtheriae
strains with different STs and the isolation of the first NTTB strain in Poland indicate that
C. diphtheriae
should be classified as a pathogen of special public health concern.
Full article
►

▼

Show Figures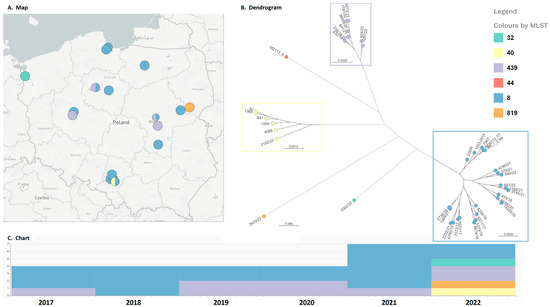 Figure 1