TOE1/TOE2 Interacting with GIS to Control Trichome Development in Arabidopsis
Cited by 2
| Viewed by 891
Abstract
Trichomes are common appendages originating and projecting from the epidermal cell layer of most terrestrial plants. They act as a first line of defense and protect plants against different types of adverse environmental factors. GL3/EGL3-GL1-TTG1 transcriptional activator complex and GIS family genes regulate
[...] Read more.
Trichomes are common appendages originating and projecting from the epidermal cell layer of most terrestrial plants. They act as a first line of defense and protect plants against different types of adverse environmental factors. GL3/EGL3-GL1-TTG1 transcriptional activator complex and GIS family genes regulate trichome initiation through gibberellin (GA) signaling in
Arabidopsis.
Here, our novel findings show that TOE1/TOE2, which are involved in developmental timing, control the initiation of the main-stem inflorescence trichome in
Arabidopsis.
Phenotype analysis showed that the
35S:TOE1
transgenic line increases trichome density of the main-stem inflorescence in
Arabidopsis
, while
35S:miR172b
,
toe1
,
toe2
and
toe1toe2
have the opposite phenotypes. Quantitative RT-PCR results showed that
TOE1
/
TOE2
positively regulate the expression of
GL3
and
GL1.
In addition, protein-protein interaction analysis experiments further demonstrated that TOE1/TOE2 interacting with GIS/GIS2/ZFP8 regulate trichome initiation in
Arabidopsis
. Furthermore, phenotype and expression analysis also demonstrated that TOE1 is involved in GA signaling to control trichome initiation in
Arabidopsis
. Taken together, our results suggest that TOE1/TOE2 interact with GIS to control trichome development in
Arabidopsis.
This report could provide valuable information for further study of the interaction of TOE1/TOE2 with GIS in controlling trichome development in plants.
Full article
►

▼

Show Figures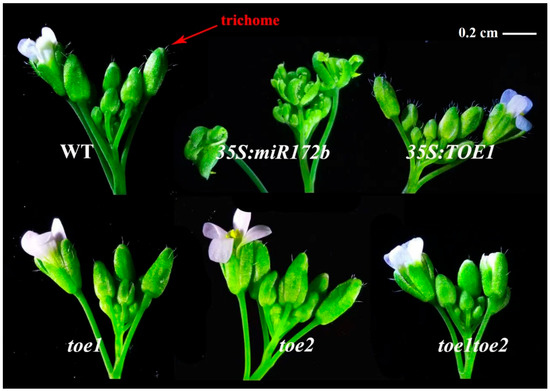 Figure 1