Antidiabetic Drug Prescription Pattern in Hospitalized Older Patients with Diabetes
Viewed by 1072
Abstract
Objective: To describe the prescription pattern of antidiabetic and cardiovascular drugs in a cohort of hospitalized older patients with diabetes. Methods: Patients with diabetes aged 65 years or older hospitalized in internal medicine and/or geriatric wards throughout Italy and enrolled in the REPOSI
[...] Read more.
Objective: To describe the prescription pattern of antidiabetic and cardiovascular drugs in a cohort of hospitalized older patients with diabetes. Methods: Patients with diabetes aged 65 years or older hospitalized in internal medicine and/or geriatric wards throughout Italy and enrolled in the REPOSI (REgistro POliterapuie SIMI—Società Italiana di Medicina Interna) registry from 2010 to 2019 and discharged alive were included. Results: Among 1703 patients with diabetes, 1433 (84.2%) were on treatment with at least one antidiabetic drug at hospital admission, mainly prescribed as monotherapy with insulin (28.3%) or metformin (19.2%). The proportion of treated patients decreased at discharge (
N
= 1309, 76.9%), with a significant reduction over time. Among those prescribed, the proportion of those with insulin alone increased over time (
p
= 0.0066), while the proportion of those prescribed sulfonylureas decreased (
p
< 0.0001). Among patients receiving antidiabetic therapy at discharge, 1063 (81.2%) were also prescribed cardiovascular drugs, mainly with an antihypertensive drug alone or in combination (
N
= 777, 73.1%). Conclusion: The management of older patients with diabetes in a hospital setting is often sub-optimal, as shown by the increasing trend in insulin at discharge, even if an overall improvement has been highlighted by the prevalent decrease in sulfonylureas prescription.
Full article
►

▼

Show Figures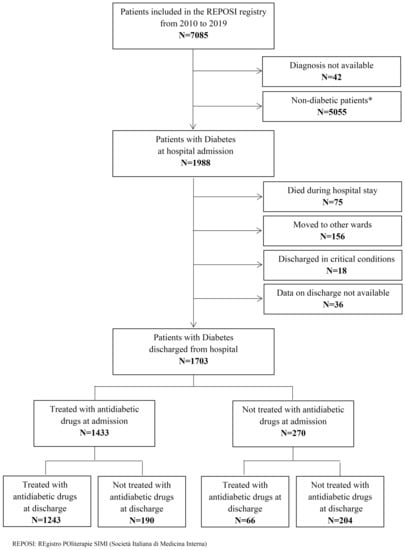 Figure 1