Khosta: A Genetic and Structural Point of View of the Forgotten Virus
Abstract
Bats are well-known to be natural reservoirs of various zoonotic coronaviruses, which have caused outbreaks of severe acute respiratory syndrome (SARS) and the COVID-19 pandemic in 2002 and 2019, respectively. In late 2020, two new
Sarbecoviruses
were found in Russia, isolated in
Rhinolophus
[...] Read more.
Bats are well-known to be natural reservoirs of various zoonotic coronaviruses, which have caused outbreaks of severe acute respiratory syndrome (SARS) and the COVID-19 pandemic in 2002 and 2019, respectively. In late 2020, two new
Sarbecoviruses
were found in Russia, isolated in
Rhinolophus
bats, i.e., Khosta-1 in
R. ferrumequinum
and Khosta-2 in
R. hipposideros
. The potential danger associated with these new species of
Sarbecovirus
is that Khosta-2 has been found to interact with the same entry receptor as SARS-CoV-2. Our multidisciplinary approach in this study demonstrates that Khosta-1 and -2 currently appear to be not dangerous with low risk of spillover, as confirmed by prevalence data and by phylogenomic reconstruction. In addition, the interaction between Khosta-1 and -2 with ACE2 appears weak, and furin cleavage sites are absent. While the possibility of a spillover event cannot be entirely excluded, it is currently highly unlikely. This research further emphasizes the importance of assessing the zoonotic potential of widely distributed batborne CoV in order to monitor changes in genomic composition of viruses and prevent spillover events (if any).
Full article
►

▼

Show Figures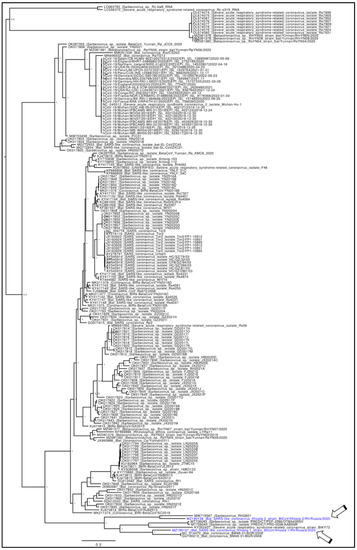 Figure 1