Taxonogenomic Analysis of Marine-Derived Streptomyces sp. N11-50 and the Profile of NRPS and PKS Gene Clusters
Abstract
Streptomyces
sp. N11-50 was isolated from deep-sea water and found to produce diketopiperazine (DKP) compounds such as albonoursin and cyclo(Phe-Leu). This study aimed to reveal the potential to synthesize diverse nonribosomal peptide and polyketide compounds as the other secondary metabolites different from DKP
[...] Read more.
Streptomyces
sp. N11-50 was isolated from deep-sea water and found to produce diketopiperazine (DKP) compounds such as albonoursin and cyclo(Phe-Leu). This study aimed to reveal the potential to synthesize diverse nonribosomal peptide and polyketide compounds as the other secondary metabolites different from DKP after clarifying the taxonomic position. Strain N11-50 was identified as
Streptomyces albus
, as it showed 100% 16S rRNA gene sequence similarities and 95.5% DNA–DNA relatedness to
S. albus
NBRC 13014
T
. We annotated the nonribosomal peptide synthetase (NRPS) and polyketide synthase (PKS) gene clusters in the genome. Consequently, five NRPS, one hybrid PKS/NRPS, five type-I PKS and one type-II PKS gene clusters were observed, of which we predicted the products through bioinformatic analysis. These gene clusters were well conserved in already whole-genome sequence (WGS)-published strains belonging to
S. albus
. On the other hand, our taxonogenomic analysis revealed that three WGS-published
S. albus
strains were not
S. albus
. Two of the three should be classified as
Streptomyces albidoflavus
, and the remaining one was likely a new genomospecies. After reclassifying these appropriately, we demonstrated species-specific profiles of the NRPS and PKS gene clusters with little strain-level diversities.
Full article
►

▼

Show Figures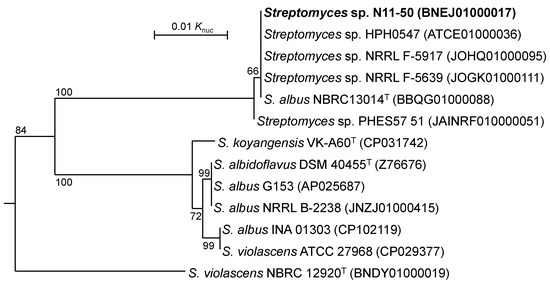 Figure 1