Preharvest UV-B Treatment Improves Strawberry Quality and Extends Shelf Life
Viewed by 1153
Abstract
Postharvest ultraviolet B (UV-B) radiation has been used to control pathogen incidence on fresh produce, but little attention has been paid to preharvest UV-B effect on strawberry fruit quality and storage. In this study, strawberry (
Fragaria
×
ananassa
Duch. cv Albion) plants
[...] Read more.
Postharvest ultraviolet B (UV-B) radiation has been used to control pathogen incidence on fresh produce, but little attention has been paid to preharvest UV-B effect on strawberry fruit quality and storage. In this study, strawberry (
Fragaria
×
ananassa
Duch. cv Albion) plants grown in greenhouse were irradiated with UV-B lamps with an intensity of 0.7362 J/s m
2
for 1 and 2 h every day from 5–7 pm after flowering. Fruits were harvested at red stage for quality evaluation. The results indicated that the preharvest UV-B-treated fruits had lighter color (increased L*) than the control. Total soluble solids (TSS), total phenolics content (TPS) and total anthocyanin content (TAC) of UV-B-treated fruits were higher than for the control fruits. There were no significant differences in any of the quality traits between UV-B one-hour and two-hour treatments. We further evaluated the fruit quality when stored at 5 °C on day 7 and day 14. Compared to untreated control, UV-B-treated fruits retarded decrease in L*, TSS, TPS, TAC and firmness, and reduced fruit decay. Examination of expression of genes related to UV-B signaling indicated that
HY5
was the major component of UV-B signaling during the green and white stages. However, anthocyanin genes were highly responsive to UV-B treatment during the red stage. Our results suggest that utilization of a low dose of UV-B radiation during the growth stage can improve strawberry fruit quality, and extend shelf life. This research facilitates the utilization of preharvest UV-B treatment for improving fruit quality in controlled environment agriculture.
Full article
►

▼

Show Figures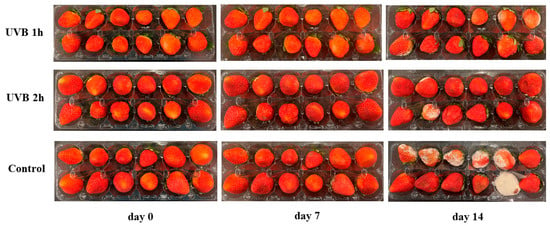 Figure 1