Determination of Phylloplane Associated Bacteria of Lettuce from a Small-Scale Aquaponic System via 16S rRNA Gene Amplicon Sequence Analysis
Viewed by 1542
Abstract
Fresh vegetables harbour diverse bacterial populations on their surfaces which are important for plant health and growth. Information on epiphytic bacteria is limited to only a few types of vegetables and it is unknown how the lettuce epiphytic bacterial community structure may respond
[...] Read more.
Fresh vegetables harbour diverse bacterial populations on their surfaces which are important for plant health and growth. Information on epiphytic bacteria is limited to only a few types of vegetables and it is unknown how the lettuce epiphytic bacterial community structure may respond when a probiotic product is added to an aquaponic system. In this study, we evaluated lettuce growth and analysed epiphytic bacterial communities of lettuce based on metabarcoding analysis of the V3-V4 region of the 16S rRNA gene obtained from paired-end Illumina MiSeq reads. The addition of
Bacillus
probiotics resulted in a significant increase of nitrate and phosphate in the deep-water culture solution, as well as increased vegetative growth of lettuce. Metabarcoding analysis revealed that the most abundant phyla on lettuce leaf surfaces were Proteobacteria, Bacteroidetes, Firmicutes, and Actinobacteria. The in-depth bacterial composition analysis indicated that genera
Chryseobacterium
,
Bacillus
,
Pantoea
,
Pseudoduganella
,
Flavobacterium
,
Paludibacter
, and
Cloacibacterium
were dominant in leaf samples obtained from
Bacillus
-treated systems. Analysis of lettuce epiphytic bacterial communities of the fresh lettuce leaf surfaces also indicated the presence of food-borne pathogens belonging to the
Shigella
and
Aeromonas
genera, which were less abundant in the probiotic treated systems. This study provides the first characterization of the epiphytic bacterial community structure and how it can be modulated by the addition of a probiotic mixture to the nutrient solution of aquaponic systems.
Full article
►

▼

Show Figures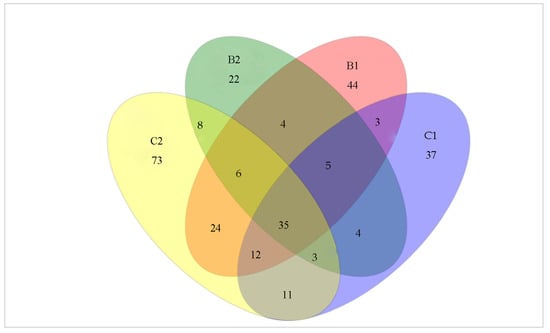 Figure 1