Effectiveness of Acupuncture on Health-Related Quality of Life in Patients Receiving Maintenance Hemodialysis
Cited by 1
| Viewed by 435
Abstract
Patients with kidney failure (KF) receiving maintenance hemodialysis (HD) experience numerous symptoms that impair their health-related quality of life (HRQOL) and contribute to high mortality rates. Acupuncture is often used for symptom enhancement and HRQOL. This blinded, randomized, controlled patient-assessor trial evaluated the
[...] Read more.
Patients with kidney failure (KF) receiving maintenance hemodialysis (HD) experience numerous symptoms that impair their health-related quality of life (HRQOL) and contribute to high mortality rates. Acupuncture is often used for symptom enhancement and HRQOL. This blinded, randomized, controlled patient-assessor trial evaluated the effectiveness of acupuncture compared with sham acupuncture on patients' HRQOL receiving maintenance HD as a secondary analysis. Seventy-two participants were randomly assigned to verum acupuncture (VA), sham acupuncture (SA), or waiting-list (WL) groups. The outcome was an improvement in HRQOL, assessed using the Kidney Disease Quality of Life—Short Form, version 1.3 (KDQOL-SF™ v1.3) at baseline, after treatment, and at 12-week follow-up. Non-parametric tests were used for statistical analysis. Of the 72 randomized patients, 67 were included in the complete analysis set. As for the changes between baseline and after treatment, the VA group showed significantly increased scores on most of the KDQOL-SF™ v1.3 scales compared to SA or WL groups (
p
< 0.05). No statistically significant differences between groups were observed in the changes from baseline to follow-up (
p
> 0.05). Compared to the sham treatment, acupuncture improved the HRQOL in patients receiving maintenance HD after treatment but not at follow-up.
Full article
►

▼

Show Figures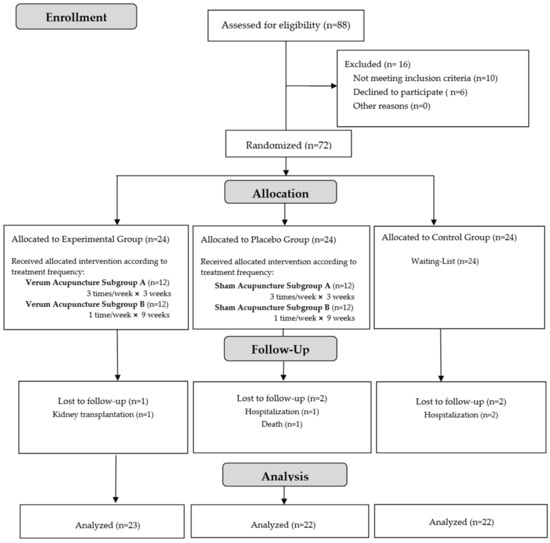 Figure 1