Significance of Micromorphological Characteristics and Expression of Intermediate Filament Proteins CK7 and CK20 in the Differential Diagnosis of Serrated Lesions of the Colorectum
Viewed by 1286
Abstract
Serrated lesions in the colorectum include all epithelial neoplastic lesions, which show a sawtooth-like morphology in the epithelial crypts. Classification systems nosologically divide colon serrated polyps into three different categories, primarily emphasizing their micromorphological growth pattern and cytodifferentiation: (1) hyperplastic polyps, (2) sessile
[...] Read more.
Serrated lesions in the colorectum include all epithelial neoplastic lesions, which show a sawtooth-like morphology in the epithelial crypts. Classification systems nosologically divide colon serrated polyps into three different categories, primarily emphasizing their micromorphological growth pattern and cytodifferentiation: (1) hyperplastic polyps, (2) sessile serrated adenomas/polyps and (3) traditional serrated adenomas. Overall, 109 patients with serrated lesions of the colon, who underwent endoscopic or surgical polypectomy/tumorectomy during one or multiple endoscopic or surgical interventions, over a four-year period, were analyzed. The average age of patients was 62.8 ± 11.6 years. The frequency of serrated lesions of the colon in male patients was 2.4 times higher than in females (70.6% vs. 29.4%). All sessile serrated lesions without dysplasia were positive for CK7 and statistically significant compared to other serrated lesions, if this positivity was present in the complete crypt (
p
= 0.005). CK20 positivity, which is limited to the upper half of the crypt, is a special feature of hyperplastic polyps compared to other serrated lesions, which is statistically significant (
p
= 0.0078). Whereas, CK20 positivity of complete crypts is a statistically significant feature of traditional serrated adenomas (
p
< 0.01). Differences in the expression pattern of cytokeratin 7 and 20 in different serrated lesions may indicate different pathways of colorectal carcinogenesis, and be diagnostically and prognostically useful.
Full article
►

▼

Show Figures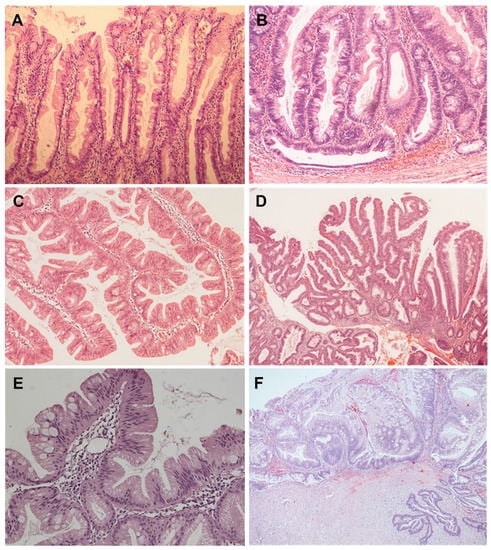 Figure 1