Application of Poultry Gelatin to Enhance the Physicochemical, Mechanical, and Rheological Properties of Fish Gelatin as Alternative Mammalian Gelatin Films for Food Packaging
Cited by 1
| Viewed by 1176
Abstract
This study aimed to describe the properties of cold water fish gelatin (FG) blended with poultry gelatin (PG) for a production of a sachet containing olive oil. To find a desirable film, the different ratio of FG-PG-based films were characterized in terms of
[...] Read more.
This study aimed to describe the properties of cold water fish gelatin (FG) blended with poultry gelatin (PG) for a production of a sachet containing olive oil. To find a desirable film, the different ratio of FG-PG-based films were characterized in terms of mechanical properties. As the proportion of PG in PG-FG-based increased, the tensile strength and Young's modulus were increased, and the elongation at break and heat seal strength of the films were decreased. The 50-50 film had favorable characteristics to use as a sachet. The amount of acid index and peroxide of the oil stored in the sachets after 14 days showed that there is a significant difference (
p
< 0.05) between the films. The barrier properties of the films including the water vapor permeability and oxygen permeability of films were increased from 1.21 to 4.95 × 10
−11
g m
−1
Pa
−1
s
−1
and 48 to 97 cm
3
mµ/m
2
d kPa, respectively. Dark, red, yellow, and opaque films were realized with increasing PG. Fourier transform infrared (FTIR) spectra approved a wide peak of approximately 2500 cm
−1
. The rheological analysis indicated that, by adding PG, viscosity, elastic modulus (G′) and loss modulus (G′′) were increased significantly (
p
< 0.05) about 9.5, 9.32 and 18 times, respectively. Therefore, an easy modification of FG with PG will make it suitable for oil sachet packaging applications for the food industry.
Full article
►

▼

Show Figures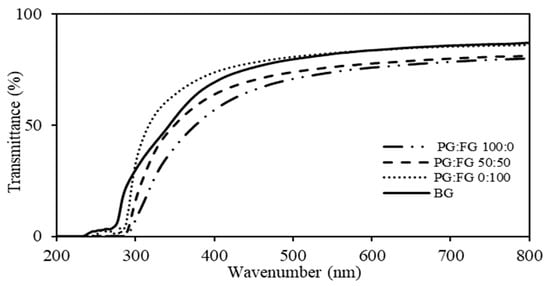 Figure 1