Performance Optimization of CsPb(I1–xBrx)3 Inorganic Perovskite Solar Cells with Gradient Bandgap
Cited by 1
| Viewed by 845
Abstract
In recent years, inorganic perovskite solar cells (PSCs) based on CsPbI
3
have made significant progress in stability compared to hybrid organic–inorganic PSCs by substituting the volatile organic component with Cs cations. However, the cubic perovskite structure of α-CsPbI
3
changes to the
[...] Read more.
In recent years, inorganic perovskite solar cells (PSCs) based on CsPbI
3
have made significant progress in stability compared to hybrid organic–inorganic PSCs by substituting the volatile organic component with Cs cations. However, the cubic perovskite structure of α-CsPbI
3
changes to the orthorhombic non-perovskite phase at room temperature resulting in efficiency degradation. The partial substitution of an I ion with Br ion benefits for perovskite phase stability. Unfortunately, the substitution of Br ion would enlarge bandgap reducing the absorption spectrum range. To optimize the balance between band gap and stability, introducing and optimizing the spatial bandgap gradation configuration is an effective method to broaden the light absorption and benefit the perovskite phase stability. As the bandgap of the CsPb(I
1–x
Br
x
)
3
perovskite layer can be adjusted by I-Br composition engineering, the performance of CsPb(I
1–x
Br
x
)
3
based PSCs with three different spatial variation Br doping composition profiles were investigated. The effects of uniform doping and gradient doping on the performance of PSCs were investigated. The results show that bandgap (Eg) and electron affinity(χ) attributed to an appropriate energy band offset, have the most important effects on PSCs performance. With a positive conduction band offset (CBO) of 0.2 eV at the electron translate layer (ETL)/perovskite interface, and a positive valence band offset (VBO) of 0.24 eV at the hole translate layer (HTL)/perovskite interface, the highest power conversion efficiency (PCE) of 22.90% with open–circuit voltage (V
OC
) of 1.39 V, short–circuit current (J
SC
) of 20.22 mA/cm
2
and filling factor (FF) of 81.61% was obtained in uniform doping CsPb(I
1–x
Br
x
)
3
based PSCs with x = 0.09. By carrying out a further optimization of the uniform doping configuration, the evaluation of a single band gap gradation configuration was investigated. By introducing a back gradation of band gap directed towards the back contact, an optimized band offset (front interface CBO = 0.18 eV, back interface VBO = 0.15 eV) was obtained, increasing the efficiency to 23.03%. Finally, the double gradient doping structure was further evaluated. The highest PCE is 23.18% with V
OC
close to 1.44 V, J
SC
changes to 19.37 mA/cm
2
and an FF of 83.31% was obtained.
Full article
►

▼

Show Figures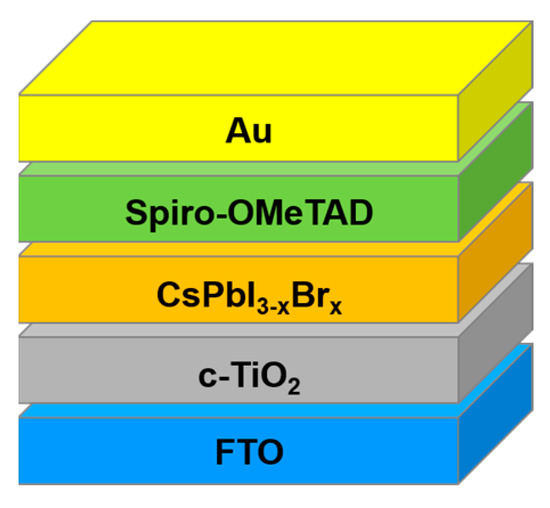 Figure 1