Conferences
Upcoming MDPI Conferences (1)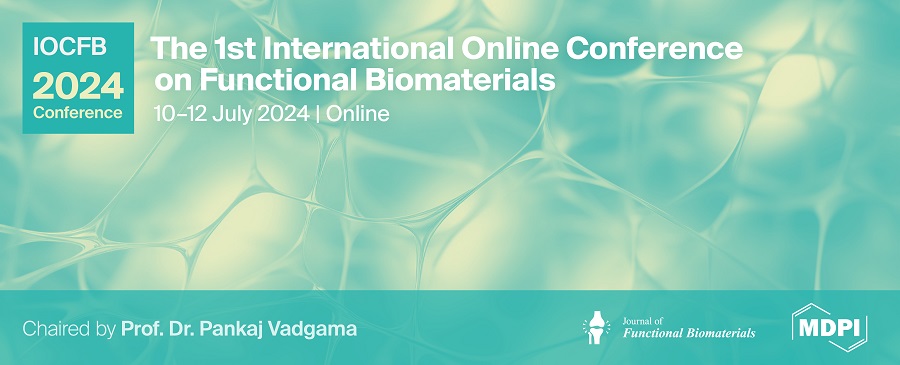 10–12 July 2024
The 1st International Online Conference on Functional Biomaterials
Online
We cordially invite you to attend this event organized by MDPI's Journal of Functional Biomaterials (ISSN 2079-4983, Impact Factor 4.8). It will take place virtually on 10–12 July 2024, online.
Conference Chair
Prof. Dr. Pankaj Vadgama, School of Engineering and Materials Science, Queen Mary University of London, UK.
Topics of Interest:
Dental biomaterials;
Bone biomaterials;
Antibacterial biomaterials;
Biomaterials for tissue engineering;
Biomaterials for drug delivery;
Biomaterials for diagnostics, therapy and healthcare;
Bio-fabricated and 3D-printed biomaterials.
Important Dates

Deadline for abstract submission: 10th March 2024
Notification of acceptance: 10th April 2024
Deadline for Early Bird Registration: 15th April 2024
Registration deadline: 4th July 2024
Guide for Authors
For any enquiries regarding the event, please contact: iocfb2024@mdpi.com
We look forward to seeing you at the 1st International Online Conference on Functional Biomaterials.
Dentistry Journal announces selected third-party conferences. In case you would like to announce your own event on the Dentistry Journal website, please fill out the following form to apply for the announcement of a conference or other academic event (seminar, workshop).
Upcoming Partner Conferences (4)