Mild to Moderate Sleep Restriction Does Not Affect the Cortisol Awakening Response in Healthy Adult Males
Viewed by 1242
Abstract
The cortisol awakening response (CAR) is a distinct rise in cortisol that occurs upon awakening that is thought to contribute to arousal, energy boosting, and anticipation. There is some evidence to suggest that inadequate sleep may alter the CAR, but the relationship between
[...] Read more.
The cortisol awakening response (CAR) is a distinct rise in cortisol that occurs upon awakening that is thought to contribute to arousal, energy boosting, and anticipation. There is some evidence to suggest that inadequate sleep may alter the CAR, but the relationship between sleep duration and CAR has not been systematically examined. Healthy males (
n
= 111; age: 23.0 ± 3.6 yrs) spent 10 consecutive days/nights in a sleep laboratory. After a baseline night (9 h time in bed), participants spent either 5 h (
n
= 19), 6 h (
n
= 23), 7 h (
n
= 16), 8 h (
n
= 27), or 9 h (
n
= 26) in bed for seven nights, followed by a 9 h recovery sleep. The saliva samples for cortisol assay were collected at 08:00 h, 08:30 h and 08:45 h at baseline, on experimental days 2 and 5 and on the recovery day. The primary dependent variables were the cortisol concentration at awakening (08:00 h) and the cortisol area under the curve (AUC). There was no effect of time in bed on either the cortisol concentration at awakening or cortisol AUC. In all the time in bed conditions, the cortisol AUC tended to be higher at baseline and lower on experimental day 5. Five consecutive nights of mild to moderate sleep restriction does not appear to affect the CAR in healthy male adults.
Full article
►

▼

Show Figures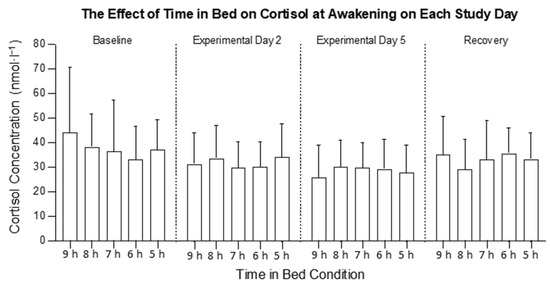 Figure 1