SCD5 Regulation by VHL Affects Cell Proliferation and Lipid Homeostasis in ccRCC
Viewed by 958
Abstract
Clear cell renal cell carcinoma (ccRCC) is the most common histological subtype of renal cancer, and inactivation of the VHL tumor suppressor gene is found in almost all cases of hereditary and sporadic ccRCCs. CcRCC is associated with the reprogramming of fatty acid
[...] Read more.
Clear cell renal cell carcinoma (ccRCC) is the most common histological subtype of renal cancer, and inactivation of the VHL tumor suppressor gene is found in almost all cases of hereditary and sporadic ccRCCs. CcRCC is associated with the reprogramming of fatty acid metabolism, and stearoyl-CoA desaturases (SCDs) are the main enzymes controlling fatty acid composition in cells. In this study, we report that mRNA and protein expression of the stearoyl-CoA desaturase SCD5 is downregulated in
VHL
-deficient cell lines. Similarly, in
C. elegans vhl-1
mutants, FAT-7/SCD5 activity is repressed, supporting an evolutionary conservation. SCD5 regulation by VHL depends on HIF, and loss of SCD5 promotes cell proliferation and a metabolic shift towards ceramide production. In summary, we identify a novel regulatory function of VHL in relation to SCD5 and fatty acid metabolism, and propose a new mechanism of how loss of VHL may contribute to ccRCC tumor formation and progression.
Full article
►

▼

Show Figures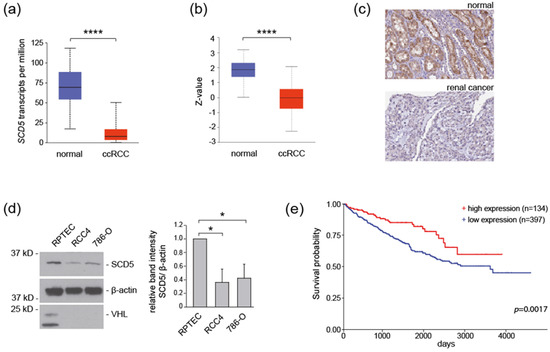 Figure 1