Conferences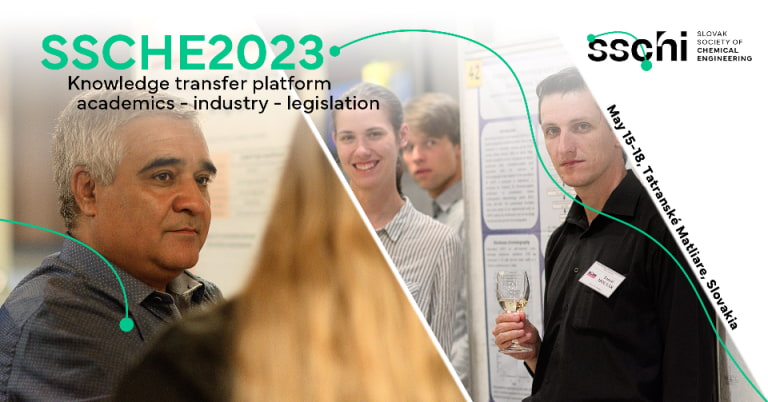 Dear Researchers and Innovation Enthusiasts,
We are delighted to announce that the well-established chemical engineering event, the 49th International Conference of Slovak Society of Chemical Engineering, will take place in a charming area of High Tatras in Slovakia on 15–18 May 2023. In 2023, the conference is supported for the first time by MDPI's open access journals Catalysts, Energies and Processes.
The Slovak Society of Chemical Engineering is the official representative of the European Federation of Chemical Engineering in Slovakia. SSCHE 2023 has been organized with the assistance of the Institute of Chemical and Environmental Engineering of the Slovak University of Technology. The aim of the conference is to present the recent results of research and technological-engineering solutions in chemical engineering with a focus on the rational use of energy sources, environmental impacts and risk management.
The golden partners of the conference are BASF and PROMA ENERGY. The silver partners are MM Team, Eversheds Sutherland, ARPEnviro, RONA and SPNZ.
The following eight sessions will take place at the conference:
Reaction engineering and catalysis;
Separation processes;
Bioengineering and biotechnology;
Environmental engineering;
Risk management and process safety;
Industrial process design and control;
Momentum, heat and mass transfer;
Material engineering.
In addition, the following three special workshops will take place during the conference:
MULTI-PI—multilevel process intensification;
WAS&BIO—waste and biomass as renewable sources;
IRinGIFT—green innovations in students' projects.
The following three keynote plenary lectures will open the conference on Monday 15 May:
Accelerated process intensification for multi-scale process systems by Assoc. Prof. Seyed Soheil Mansouri from Technical University of Denmark
Mechanochemical processing of particulate materials: from coupled problems to mechanochemistry by Prof. Csaba Sinka from University of Leicester
Pilot unit design for renewable feedstocks by David Mountainland from Hydrocarbon Technology & Innovations, LLC
To enjoy a reduced registration fee, please reserve your seat at the conference before April 15! The registration fee includes conference materials, proceedings on a USB flash drive, a conference party, coffee breaks and a welcome drink. All information about the deadlines, registration and accommodation fees and contribution templates is available on the conference website.
The participation of students at the conference is especially welcomed. We are pleased to announce awards for young scientists conducting research in the field of chemical engineering and who plan to attend SSCHE 2023.
Best Poster Awards (EUR 250 each)
Selected by the Scientific Committee after evaluation of all posters entered in the competition presented during the conference, three Best Poster Awards will be awarded during the conference closing ceremony. Each award is sponsored by MDPI's open access journals Catalysts, Energies and Processes.
You can register for the conference directly through the registration system. We look forward to meeting you in Slovakia.
Kind regards,
Dr. Ján Janošovský
Chairman of the Slovak Society of Chemical Engineering