3D Flower-like TiO2 Nanostructures: Anatase-To-Rutile Phase Transformation and Photoelectrochemical Application
Catalysts 2023, 13(4), 671; https://doi.org/10.3390/catal13040671 (registering DOI) - 29 Mar 2023
Abstract
Flower-like TiO
2
nanostructures were obtained by chemical oxidation of Ti foil using H
2
O
2
combined with subsequent annealing. This paper offers an analysis of the phase transformation of 3D flower-like titanium dioxide nanostructures. The role of the annealing atmosphere, sample
[...] Read more.
Flower-like TiO
2
nanostructures were obtained by chemical oxidation of Ti foil using H
2
O
2
combined with subsequent annealing. This paper offers an analysis of the phase transformation of 3D flower-like titanium dioxide nanostructures. The role of the annealing atmosphere, sample thickness, grain shape, and nanoflower size are discussed. The nanostructures were examined using SEM, XRD, and Raman spectroscopy. Due to the nature of these two processes, the morphology of these nanomaterials is complex, and is obtained through a reaction involving Ti foil and H
2
O
2
at 80°C. A distinction is made between the layer composed of small grains at the substrate/oxide interface, elongated crystal-like structures, and outer spongle-like film. The annealing parameters, such as atmosphere (air or argon) and temperature (450 or 600 °C), affect phase composition. The photoelectrochemical performance of the anode based on flower-like TiO
2
has been shown. The thickness and phase composition of the anodes are factors that strongly affect the photocurrent. The multiphase heterojunctions proposed for 3D flower-like TiO
2
photoanodes in photoelectrochemical (PEC) cells suppose that the conduction band of anatase should be above rutile. The highest photoelectrochemical performance was obtained for a photoanode composed of 20–40% anatase and an associated thickness of 0.75–1.5 µm.
Full article
►

▼

Show Figures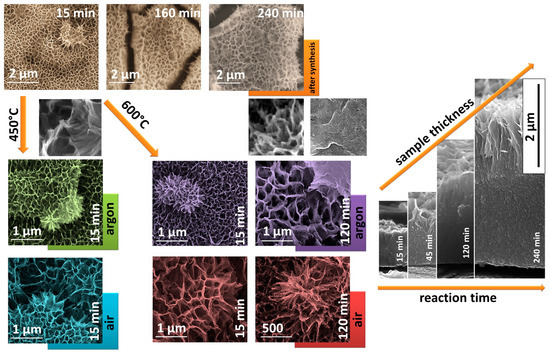 Figure 1