Conferences
Upcoming MDPI Conferences (1)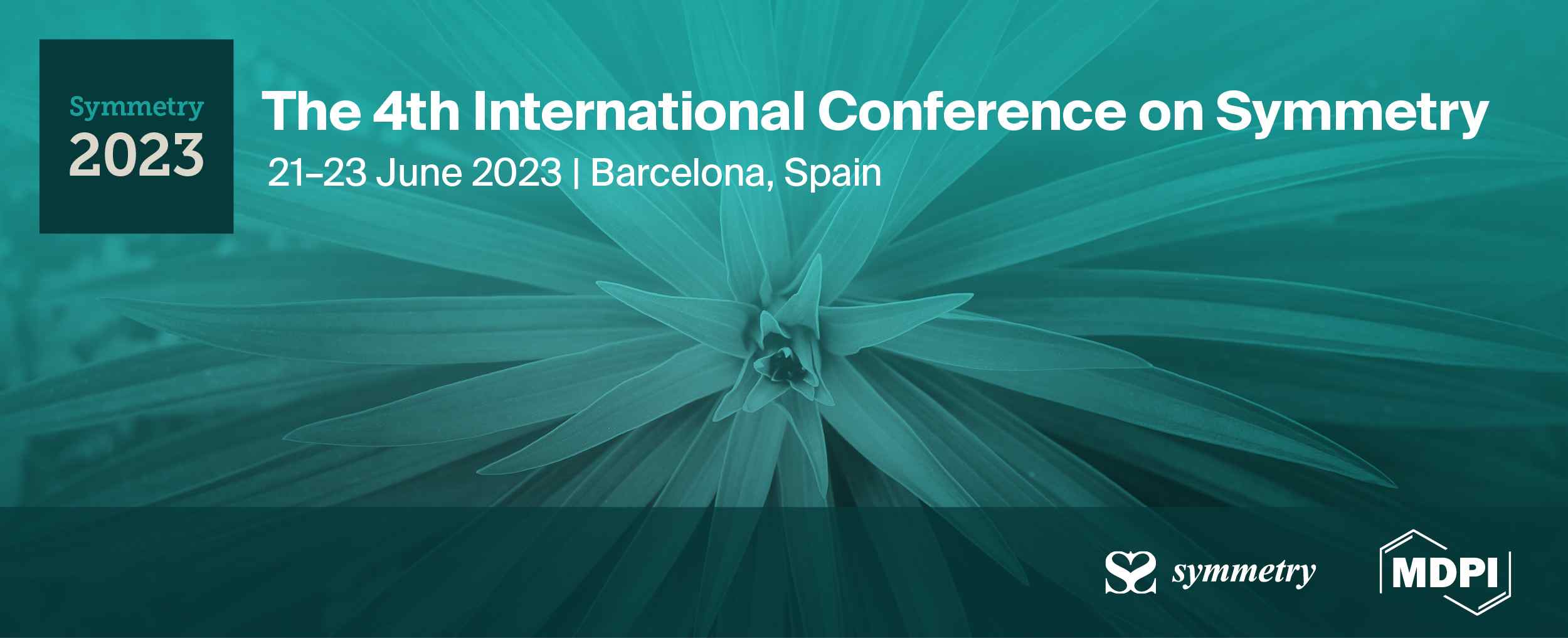 21–23 June 2023
Symmetry 2023—The 4th International Conference on Symmetry
Barcelona, Spain
Dear Colleagues,
We are delighted to announce that "Symmetry 2023—The 4th International Conference on Symmetry" will be back in person in 2023. The event is supported by MDPI's open access journal Symmetry and will be held on 21–23 June 2023 in Barcelona, Spain.
As expressed by Hermann Weyl, who was responsible for important progress in the field of symmetry in math and physics: "Symmetry is a fundamental phenomenon in nature and all sciences". Additionally, paraphrasing Frank Wilczek, "powerful symmetry principles have guided physicists in their quest for nature's fundamental laws". Although one should add, at the same time, that many of the most interesting situations happen to occur when some fundamental symmetry principle is broken. It thus seems as if nature abhors perfect symmetry.
It is this interplay between symmetry and its breakdown, in the many different domains and situations where they appear, which we want to address in the 4th Symmetry Conference in Barcelona. Specifically, we will foster interaction between scholars working in different fields of science.
We welcome scholars, engineers, students, and non-academic colleagues to join Symmetry 2023, and we kindly ask you to save the date. We aim to make this event a forum for discussion, knowledge exchange, and fruitful interactions among stakeholders working in various symmetry-related fields: Computer Science, Mathematics, Physics, Chemistry, Biology, and Engineering Science. Both oral and poster contributions are welcome.
We are pleased to announce the availability of awards for postdocs, PhD students, and researchers conducting research in the field of symmetry and who plan to attend Symmetry 2023.
Best Oral Presentation (EUR 500)
Selected by the Scientific Committee after evaluation of all selected talks presented during the conference.
Best Poster (EUR 300)
Selected by the Scientific Committee after evaluation of all posters presented during the conference.
Both awards are sponsored by MDPI's open access journal Symmetry.
We are very enthusiastic about this 4th Symmetry Conference and are relying on you to make it a successful event.
We look forward to meeting you in Barcelona!
Brain Sciences announces selected third-party conferences. In case you would like to announce your own event on the Brain Sciences website, please fill out the following form to apply for the announcement of a conference or other academic event (seminar, workshop).
Upcoming Partner Conferences (2)

13–16 September 2023
20th International Congress of Neuropathology (ICN 2023)
Berlin, Germany
Dear Friends and Colleagues,
It is with great anticipation and excitement that we cordially invite you to the 20th International Congress of Neuropathology (ICN) on 13–16 September 2023 in Berlin/Germany.
ICN takes place every 4 years and is the most accepted global exchange forum for advances in neuropathology and its neighboring clinical disciplines that covers research topics in the fields of neuro-oncology, neurodegeneration, neuroinflammation as well as muscle and nerve diseases and acts as an interface between basic and clinical neurosciences.
Experience four extraordinary days in the exciting world metropolis of Berlin and walk in the footsteps of German history at the conference venue Langenbeck-Virchow-Haus, which is located directly next to Europe's largest hospital, the Charité.
Take the chance to meet your colleagues from the worldwide community of basic and clinical neuroscientists, covering the fields of molecular and classical neuropathology, neuro-oncology, neurology, neurosurgery, neuroradiology, neuroanatomy, and neuroimmunology, as well as other disciplines linking to the exciting field of neuro-medicine.
The main information on ICN 2023 can always be found on the conference homepage, which is updated regularly.
We look forward to welcoming you in Berlin for ICN 2023!

15–19 October 2023
XXVI World Congress of Neurology (WCN 2023)
Montreal, QC, Canada
The World Federation of Neurology's XXVI World Congress of Neurology (WCN 2023) will be held in Montreal, Canada, from 15–19 October 2023. The congress will be proudly co-hosted by the Canadian Neurological Society (CNS), under the theme "Brain health is our greatest wealth", and will bring us up to date in the broad field of neurology, ranging from tropical neurology to molecular genetics.
Having been prepared for two years, the World Congress of Neurology is truly different; it is set apart from other neurological congresses via its rotation around the regions of the world, each with its own unique local flavour and culture.
This congress will be a valuable forum for the exchanging of clinical experiences, of personal trajectories, and of science, as well as for mentoring and nurturing the next generation.
WCN 2023 will allow us to collaborate with thousands of peers from across the world and witness the best scientific as well as teaching programs, in addition to ground-breaking research.
We warmly invite you to join us at the XXVI World Congress of Neurology, a historic landmark raising awareness of neurological issues and the advancement of knowledge.