Suppressive Effects of Lactobacillus on Depression through Regulating the Gut Microbiota and Metabolites in C57BL/6J Mice Induced by Ampicillin
Cited by 1
| Viewed by 806
Abstract
Depression is a medical and social problem. Multiple metabolites and neuroinflammation regulate it. Modifying the gut microbiota with probiotics to reduce depression through the gut-brain axis is a potential treatment strategy. In this study, three anti-depressive potentials of
Lactobacillus
spp. (LAB), including
L.
[...] Read more.
Depression is a medical and social problem. Multiple metabolites and neuroinflammation regulate it. Modifying the gut microbiota with probiotics to reduce depression through the gut-brain axis is a potential treatment strategy. In this study, three anti-depressive potentials of
Lactobacillus
spp. (LAB), including
L. rhamnosus
GMNL-74,
L. acidophilus
GMNL-185 and
L. plantarum
GMNL-141, which combined to produce low dosage LAB (1.6 × 10
8
CFU/mouse, LABL) and high dosage LAB (4.8 × 10
8
CFU/mouse, LABH), were administered to C57BL/6 mice induced depression by ampicillin (Amp). A behavioral test of depression, 16S ribosomal RNA gene amplicon sequencing, bioinformatic analysis, and short-chain fatty acid (SCFA) content measurement were executed to investigate the gut microbiota composition, activation of nutrient metabolism pathways, levels of inflammatory factors, gut-derived 5-HT biosynthesis genes, and SCFA levels in C57BL/6 mice. Results showed that after mice were induced by Amp, both LAB groups recovered from depressive behaviors, decreased the abundance of
Firmicutes
, and increased the abundance of
Actinobacteria
and
Bacteroidetes
in the mouse ileum. The prediction of metabolism pathways of microbes revealed the activation of arginine and proline metabolism, cyanoamino acid metabolism, and nicotinate and nicotinamide metabolism were increased, and fatty acid synthesis was decreased in both LAB groups. The LABH groups showed increased levels of acetic acid, propanoic acid, and iso-butyric acid and decreased butyric acid levels in the cecum. LABH treatment increased claudin-5 and reduced IL-6 mRNA expression. Both LAB groups also reduced monoamine oxidase, and the LABH group increased vascular endothelial growth factor mRNA expression. These results showed that the composite of three LAB exerts antidepressant effects by regulating the gut microbiota and modifying the levels of depression-related metabolites in C57BL/6J Amp-treated mice.
Full article
►

▼

Show Figures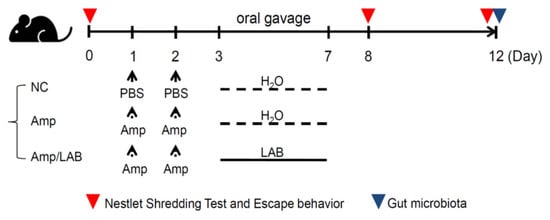 Figure 1