Conferences
Upcoming MDPI Conferences (2)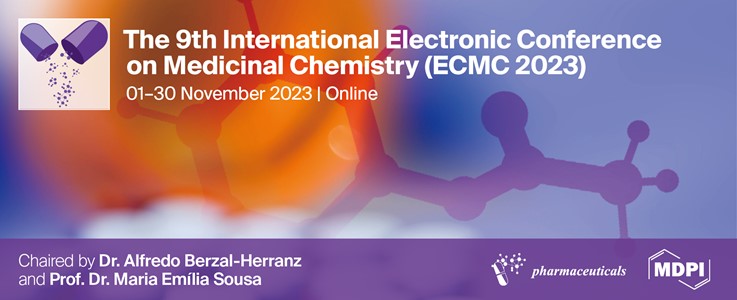 1–30 November 2023
ECMC 2023: The 9th International Electronic Conference on Medicinal Chemistry
Online
The members of the Scientific Committee are pleased to announce this Call for Participation for the 9th International Electronic Conference on Medicinal Chemistry and to invite each researcher working in the exciting fields of medicinal chemistry and drug-related sciences to share their recent results with their colleagues all over the world.
The conference will cover a wide range of aspects involved in drug discovery and development. Topics that will be considered include, but are not limited to:
Small molecules as drug candidates
Biomolecules, natural products, phages, and cells as therapeutic tools
Biological targets and biomarkers
Radiopharmaceutical sciences, radiochemistry, (hybrid) imaging, and nuclear medicine
Pharmacokinetics and pharmacodynamics
Pharmaceutical preparations and drug delivery
Participation in the 9th International Electronic Conference on Medicinal Chemistry is free of charge for contributors and visitors. Researchers should submit a short abstract (250 words maximum without figures and without references) online at https://sciforum.net/, from now until 24 September 2023. A maximum of three submissions by each research group (any session combined) will be considered. Acceptance will be notified about a week of submission of the abstract. The author(s) will be asked to present their work (in English) in the form of a poster, slideshow, or video using the templates provided by the conference (see Instructions for Authors). All accepted submissions will be displayed online, at https://ecmc2023.sciforum.net/, on 1–30 November 2023.
Authors will be invited to publish their work as a review or a research article at a discounted price in a Special Issue of the journal Pharmaceuticals.
The Scientific Committee looks forward to receiving contributions in response to this call and will be glad to provide any further information to interested parties. Questions may be addressed to the Pharmaceuticals Editorial Office at ecmc@mdpi.com.
We thank you in advance for your attendance of this conference and look forward to a stimulating exchange.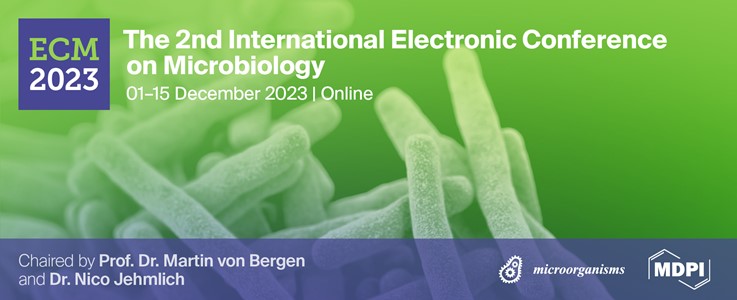 1–15 December 2023
The 2nd International Electronic Conference on Microbiology
Online
We are pleased to announce and invite you to join the 2nd International Electronic Conference on Microbiology (ECM 2023) that is hosted online by: ECM2023.sciforum.net. Participation is free of charge for both authors and attendees.
ECM 2023 will present the latest research related to microorganisms.
Topics of interest include but are not limited to:
S1. Gut Microbiota and Health Disease
S2. Foodborne Pathogens and Food Safety
S3. Antimicrobial Agents and Resistance
S4. Emerging Infectious Diseases
S5. Microbiome and Soil Science
S6. Microbial Characterization and Bioprocess
S7. Microbe–Plant Interactions
Important Dates:
Abstract Submission: 30th June 2023
Acceptance Notification: 20th July 2023
Full Paper Submission: 10 September 2023
Final Paper Notification: 20 September 2023
All submitted abstracts will be evaluated by the conference committee. Upon acceptance of their abstract, authors will contribute an extended abstract for the conference proceedings and a slide presentation of their work. The authors of the most outstanding contributions will be invited to submit a full manuscript for potential publication in the Special Issue "ECM 2023" in the journal Microorganisms (Impact Factor 4.926) (submission to the journal is independent of the conference proceedings and will follow the usual process of the journal, including peer review, APC, etc.).
We look forward to your participation in this exciting event.
To find out more about the conference, please visit the following link:
Biomedicines announces selected third-party conferences. In case you would like to announce your own event on the Biomedicines website, please fill out the following form to apply for the announcement of a conference or other academic event (seminar, workshop).
Upcoming Partner Conferences (1)

13–16 September 2023
20th International Congress of Neuropathology (ICN 2023)
Berlin, Germany
Dear Friends and Colleagues,
It is with great anticipation and excitement that we cordially invite you to the 20th International Congress of Neuropathology (ICN) on 13–16 September 2023 in Berlin/Germany.
ICN takes place every 4 years and is the most accepted global exchange forum for advances in neuropathology and its neighboring clinical disciplines that covers research topics in the fields of neuro-oncology, neurodegeneration, neuroinflammation as well as muscle and nerve diseases and acts as an interface between basic and clinical neurosciences.
Experience four extraordinary days in the exciting world metropolis of Berlin and walk in the footsteps of German history at the conference venue Langenbeck-Virchow-Haus, which is located directly next to Europe's largest hospital, the Charité.
Take the chance to meet your colleagues from the worldwide community of basic and clinical neuroscientists, covering the fields of molecular and classical neuropathology, neuro-oncology, neurology, neurosurgery, neuroradiology, neuroanatomy, and neuroimmunology, as well as other disciplines linking to the exciting field of neuro-medicine.
The main information on ICN 2023 can always be found on the conference homepage, which is updated regularly.
We look forward to welcoming you in Berlin for ICN 2023!