Carrier-Free Cellular Transport of CRISPR/Cas9 Ribonucleoprotein for Genome Editing by Cold Atmospheric Plasma
Cited by 4
| Viewed by 1917
Abstract
A carrier-free CRISPR/Cas9 ribonucleoprotein delivery strategy for genome editing mediated by a cold atmospheric plasma (CAP) is described. The CAP is promising in many biomedical applications due to efficient production of bioactive ionized species. The MCF-7 cancer cells after CAP exposure exhibit increased
[...] Read more.
A carrier-free CRISPR/Cas9 ribonucleoprotein delivery strategy for genome editing mediated by a cold atmospheric plasma (CAP) is described. The CAP is promising in many biomedical applications due to efficient production of bioactive ionized species. The MCF-7 cancer cells after CAP exposure exhibit increased extracellular reactive oxygen and nitrogen species (RONS) and altered membrane potential and permeability. Hence, transmembrane transport of Ca
2+
into the cells increases and accelerates ATP hydrolysis, resulting in enhanced ATP-dependent endocytosis. Afterwards, the increased Ca
2+
and ATP contents promote the release of cargo into cytoplasm due to the enhanced endosomal escape. The increased membrane permeability also facilitates passive diffusion of foreign species across the membrane into the cytosol. After CAP exposure, the MCF-7 cells incubated with Cas9 ribonucleoprotein (Cas9-sgRNA complex, Cas9sg) with a size of about 15 nm show 88.9% uptake efficiency and 65.9% nuclear import efficiency via passive diffusion and ATP-dependent endocytosis pathways. The efficient transportation of active Cas9sg after the CAP treatment leads to 21.7% and 30.2% indel efficiencies in HEK293T and MCF-7 cells, respectively. This CAP-mediated transportation process provides a simple and robust alternative for the delivery of active CRISPR/Cas9 ribonucleoprotein. Additionally, the technique can be extended to other macro-biomolecules and nanomaterials to cater to different biomedical applications.
Full article
►

▼

Show Figures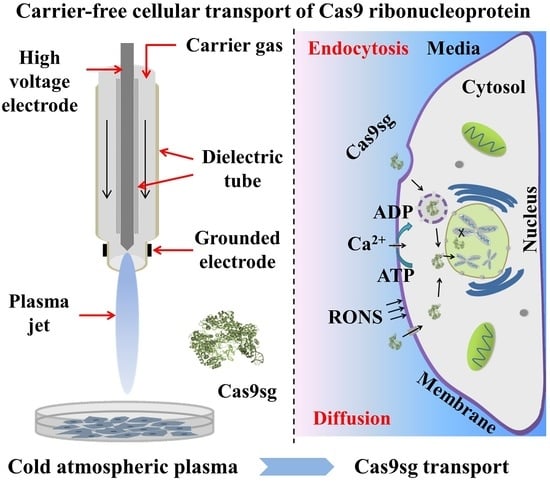 Graphical abstract