Conservation Genetics of the Critically Endangered Southern River Terrapin (Batagur affinis) in Malaysia: Genetic Diversity and Novel Subspecies Distribution Ranges
Biology 2023, 12(4), 520; https://doi.org/10.3390/biology12040520 (registering DOI) - 29 Mar 2023
Abstract
A population genetics study was carried out on the Southern River terrapin (
Batagur affinis
) from four places in Peninsular Malaysia: Pasir Gajah, Kemaman (KE), Terengganu; Bukit Pinang (BP), Kedah; Bota Kanan (BK), Perak; and Bukit Paloh, Kuala Berang (KB), Terengganu. The
[...] Read more.
A population genetics study was carried out on the Southern River terrapin (
Batagur affinis
) from four places in Peninsular Malaysia: Pasir Gajah, Kemaman (KE), Terengganu; Bukit Pinang (BP), Kedah; Bota Kanan (BK), Perak; and Bukit Paloh, Kuala Berang (KB), Terengganu. The goal of this study is to identify genetic differences in two subspecies of
B. affinis
in Malaysia. No previous reports were available on the genetic diversity, phylogenetic relationships and matrilineal hereditary structure of these terrapin populations in Malaysia. The sequencing identified 46 single nucleotide polymorphisms that defined six mitochondrial haplotypes in the Southern River terrapins. Tajima's D test and Fu's Fs neutrality tests were performed to evaluate the signatures of recent historical demographic events. Based on the tests, the
B. affinis edwardmolli
was newly subspecies identified in the west coast–northern region of Kedah state. In addition, the
B. affinis edwardmolli
in Bukit Paloh, Kuala Berang (KB), Terengganu (Population 4), was shown to have a single maternal lineage compared to other populations. Low genetic diversity, but significant genetic differences, were detected among the studied Southern River terrapin populations.
Full article
►

▼

Show Figures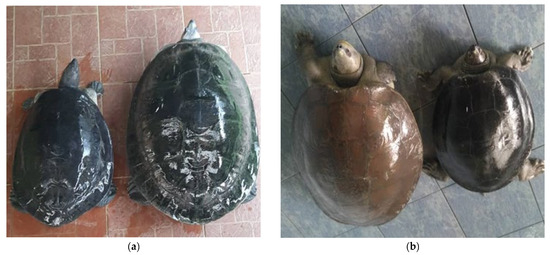 Figure 1