Startle Responses of Jorō Spiders (Trichonephila clavata) to Artificial Disturbance
Abstract
The jorō spider (
Trichonephila clavata
, originally from east Asia) has been introduced in the southeastern United States, and is rapidly expanding this range, leading to questions about what facilitates this spread. Meanwhile, its cousin, the golden silk spider (
T. clavipes
[...] Read more.
The jorō spider (
Trichonephila clavata
, originally from east Asia) has been introduced in the southeastern United States, and is rapidly expanding this range, leading to questions about what facilitates this spread. Meanwhile, its cousin, the golden silk spider (
T. clavipes
), already has a range that covers most of the southeast. In an ongoing effort to understand the behavior of jorō spiders in their introduced range, we undertook the current project to evaluate how they react to perceived threats, which can inform us on how a species interacts with conspecifics, or how well it can tolerate anthropogenic disturbances. We collected mature females of both
Trichonephila
species, plus three locally common orb-weaving species in Georgia, and we evaluated the time spent immobile after experiencing a mild disturbance (a brief puff of air). We also collected similar "air puff response" data for five other North American species from the published literature. Collectively, the dataset totaled 453 observations of freezing behavior across 10 spider species. Comparing these data across species revealed that most spiders remained immobile for under a minute after the stimulus. Meanwhile, both
Trichonephila
spiders remained immobile for over an hour, which appears to be unprecedented, and suggests that spiders in this genus are the "shyest" ever documented. This reaction could also allow
Trichonephila
spiders to tolerate urban environments by remaining motionless throughout each disturbance instead of fleeing.
Full article
►

▼

Show Figures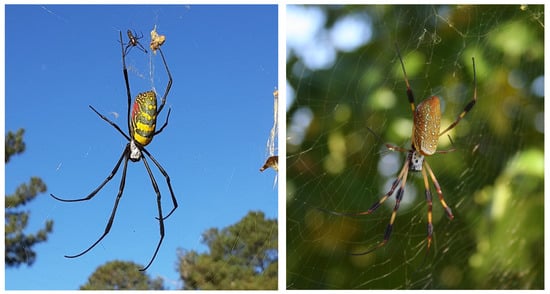 Figure 1