Is Switching of Adrenaline Auto Injector Devices a Concern for Anaphylaxis Management? A CROSS-Sectional Study
Abstract
Adrenaline auto injectors (AAI) are the mainstay of treatment in anaphylaxis. However, many caregivers of children with food allergies are unable to administer an AAI when assessed. One proposed factor for this finding is the lack of training and familiarity of the different
[...] Read more.
Adrenaline auto injectors (AAI) are the mainstay of treatment in anaphylaxis. However, many caregivers of children with food allergies are unable to administer an AAI when assessed. One proposed factor for this finding is the lack of training and familiarity of the different AAI devices. The aim of this study is to explore the usage of different brands of adrenaline auto-injectors among caregivers of children with food allergies in Ireland. A cross-sectional study method was employed using an online questionnaire. An amount of 121 (75.58%) caregivers reported that their child carried an Epipen
®
, 25 (15.82%) carried Jext
®
, and 12 (7.59%) carried Anapen
®
. An amount of 48.73% (n = 77) of caregivers had switched brands of AAI at least once before, with lack of availability of their usual device at their pharmacy being the most common reason for this. Factors associated with change were a household income >100,000 € (70% vs. 44.9% of those with less income;
p
= 0.04) and parents ≥40 years old (59.6% vs. 32.8% of patients whose parents younger;
p
< 0.01). When asked what they preferred about a particular AAI brand, caregivers appreciated a simple design with minimal steps involved in administration, clear colour coding, online resources, formal training from a healthcare professional, and first-hand experience in using the AAI. These findings show, for the first time, that switching brands is a common occurrence among caregivers of children with food allergies. These findings support the EAACI recommendation to train parents regularly in all available brands of AAI and to retrain parents when switching to different devices.
Full article
►

▼

Show Figures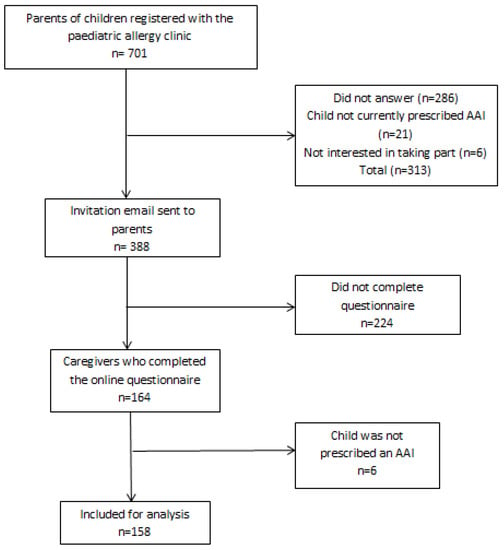 Figure 1