Need Help?
Support
Find support for a specific problem in the support section of our website.
Get Support
Feedback
Please let us know what you think of our products and services.
Give Feedback
Information
Visit our dedicated information section to learn more about MDPI.
Get Information
clear
23 September 2023
Celebrating Peer Review Week (25–29 September 2023)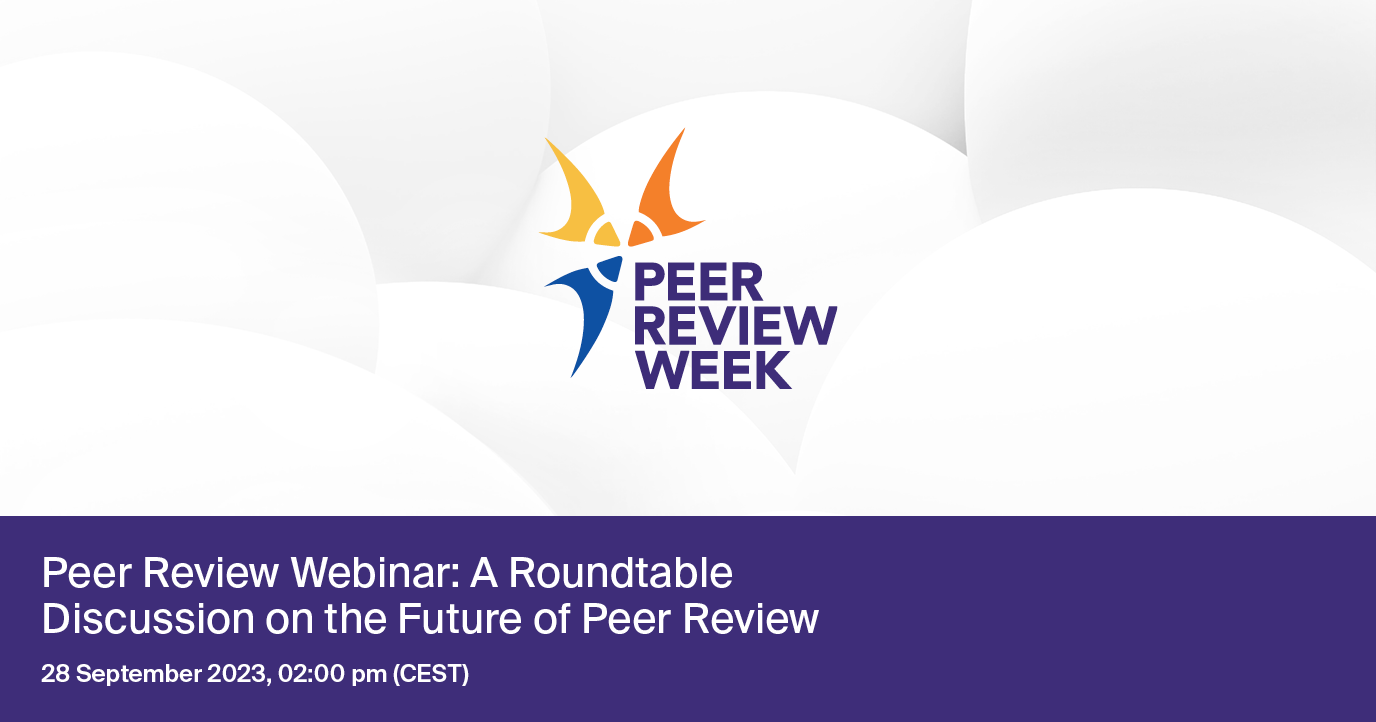 Peer Review Week is a global, annual, community-led event celebrating the essential role that peer review plays in maintaining research quality. In 2023, it's happening from 25 to 29 September. MDPI joins institutions, organizations, publishers, and individuals in sharing the central message that good peer review, whatever shape or form it might take, is critical to upholding integrity in scholarly publishing.
This year's theme "Peer Review and The Future of Publishing" was chosen through a global poll to represent the collective voice of the academic world. The scholarly publishing landscape is changing fast, but peer review remains as crucial as ever to uphold research integrity and scrutinize research results before they get published. Peer Review Week gives us a chance to reflect on how peer review is evolving. As the number 1 scholarly open access publisher, we are committed to understanding and adapting to new technologies and new realities faced by the scholarly communities.

In celebration of Peer Review Week, we have convened a roundtable discussion with experts to assess future developments relevant to scientists and scholarly publishers alike that we invite you to join. Additionally, we have compiled a selection of discussions on key topics regarding the future of peer review and we are sharing what the scholarly community has to say about MDPI's peer-review process – check it out below.

Roundtable Discussion on the Future of Peer Review
As part of our activities, we are excited to present a webinar titled "Peer Review Week 2023: A Roundtable Discussion on the Future of Peer Review" that is taking place online on 28 September 2023 at 14:00 CEST (08:00 EDT; 20:00 CST respectively). It is going to be hosted by Dr. Ioana Craciun from MDPI's Scientific Board and featuring a panel of distinguished researchers.

Register now for free to engage with our panelists on critical topics surrounding peer review practices like changes in scholarly publishing and their effect on peer review, technological advancements and their influence on peer review and the evolving needs of reviewers in these changing times.
Using AI to Enhance Peer Review
MDPI's extensive database of reviewers includes subject-matter experts in every research area who volunteer to examine submitted articles, scrutinizing and verifying the presented research methodologies and results. It is important to us to give all the recognition and support we can for the reviewers' efforts.
As we're constantly looking to improve, our Data Analytics team has created a Natural Language Processing (NLP) model, a special kind of AI tool designed to help pick the most expert reviewers for any given paper submission. This proprietary tool utilizes NLP to extract information from the title and abstract of submitted papers before cross-referencing with our reviewer database.

In a recent edition of MDPI Insights: The CEO's Letter, MDPI's CEO Stefan Tochev wrote on the development: "The goal of this tool is to provide better targeted peer-review invitations, reducing the number of emails sent for each paper and increasing the efficiency of our editorial staff."
Open Peer Review – the New Standard?
In May 2024, it will have been ten years since MDPI introduced the option for open peer review in the journal Life. Open peer review entails authors having the choice of whether to publish the review reports (open reports), and reviewers can choose to have their names associated with their published reports (open identity). If authors decide to publish the reports, both the review reports and author responses will be available on the article abstract page.
Open peer review demonstrated its value and, as a result, was expanded to encompass all of our journals in 2018. As of 2023, approximately one-third of MDPI articles have been published with open review reports.
"Open peer reports align with the principles of open science, making the publishing process more transparent and facilitating rigorous peer review", wrote MDPI's Stefan Tochev in the CEO's Letter. "Open peer review also encourages reviewers and editors to provide high-quality comments, as these will be made public if the article is accepted for publication."
MDPI remains committed to promoting open peer review and encourages authors to choose this approach. Our goal is to provide a rigorous and transparent peer-review process that benefits the scientific community. We believe that open peer review is a vital step in fostering openness and collaboration in scientific communication.
Listening to MDPI's Authors and Reviewers
We highly value the time of our reviewers and so do the authors in our journals, as indicated by recent surveys conducted between February and August 2023. Our editorial process is bolstered by a network of dedicated reviewers, a team of over 6000 diligent, well-trained staff members, and an in-house article submission platform that was designed to ensure efficient processes. In the following, we share some key findings from the surveys alongside a few of the statements from our authors and reviewers.


Reviewer Testimonials
Author Feedback